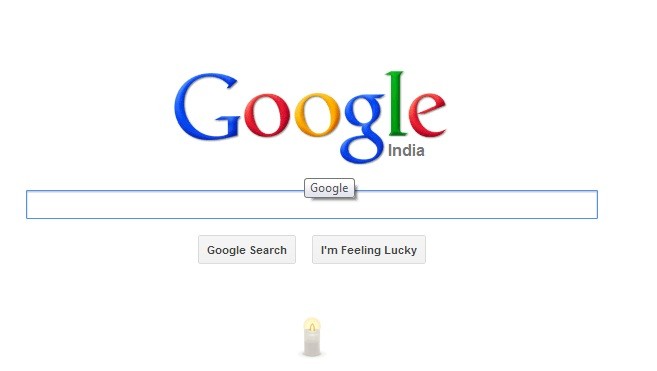 As the entire nation mourns the death of the Delhi gang-rape victim, search giant Google paid homage by displaying a candle on its India's home page.
Google has a history of commemorating death and birth anniversaries of well-known personalities across the globe with fascinating doodles. A tribute to a common citizen showed that Google too has sunk in to despair over an unfortunate death.
Its homepage on Monday featured a lit candle below the search option tool. When the mouse cursor is placed over the candle, it reads "In memory of the Delhi braveheart".
Earlier this month, Google grieved over the US shooting incident with a message on its homepage "Our hearts are with the families and community of Newtown, Connecticut."
The Delhi-based physiotherapy student was gang raped in a moving bus on Dec 16 when she was returning home with a male friend after watching a movie. The girl was repeatedly raped and assaulted by six men who later threw the couple onto the road. The victim fought for her life for 13 days before breathing her last on Saturday morning at a Singapore hospital where she had been taken for treatment.
The girl's death left the nation in shock. Anguished citizens across the country took to the street to demand justice for the girl and to ensure safety of women in India.