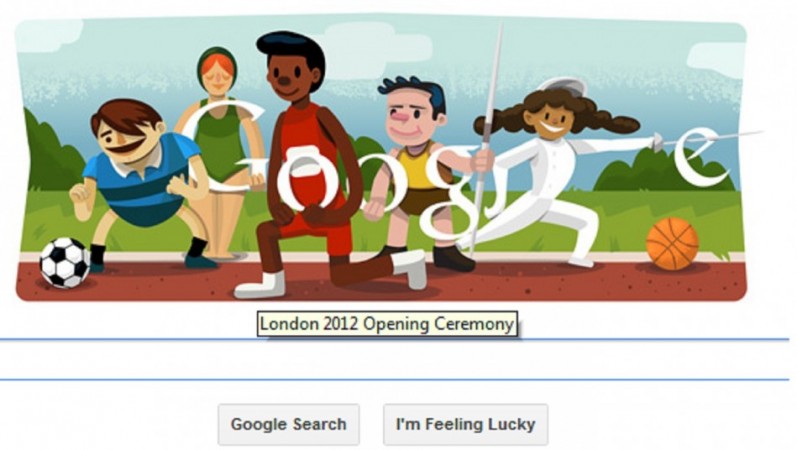 Internet giant Google on Friday kick-started the Olympic revelry with its very own London 2012 Opening Ceremony doodle.
The new doodle features five athletes carrying the alphabets that spell out the word "Google" and in their sporting disciplines of football, swimming, running, javelin throw, fencing and basketball.
The biggest sporting event, which will be held in the British capital this year, will begin with a spectacular opening ceremony called "The Isles of Wonder" on July 27, and will continue until August 12. The venue for the 2012 Summer Games will be spread across various locations, including some well-known areas of Hyde Park and Horse Guards Parade ground.
The ceremony is expected to begin at 9 pm BST, and viewers in India can get access to live streaming of the event on YouTube's official Olympic channel set up by the International Olympics Committee. With less than 24 hours for the games to begin, this dedicated channel is currently showing video clips of past Olympic games.
Out of the 16,000 athletes from 204 countries participating in the event, 81 Indians will be aiming for the medal. Twenty three women athletes including Mary Kom, Saina Nehwal, Sania Mirza, and ace archer Deepika Kumari will be representing the country this time.
India has earned a major seat in the 2012 event, with music maestro AR Rahman scoring a track for Danny Boyle's musical showpiece at the opening ceremony. A Chennai-based band, which was selected from 10,000 entries from Asia, is also set to perform at the prestigious occasion and is allotted two slots of 80 minutes performance.
Apart from the athletes and performers, around 60,000 spectators are expected to attend the three-hour opening ceremony, while over 1 billion people will constitute the global audience.