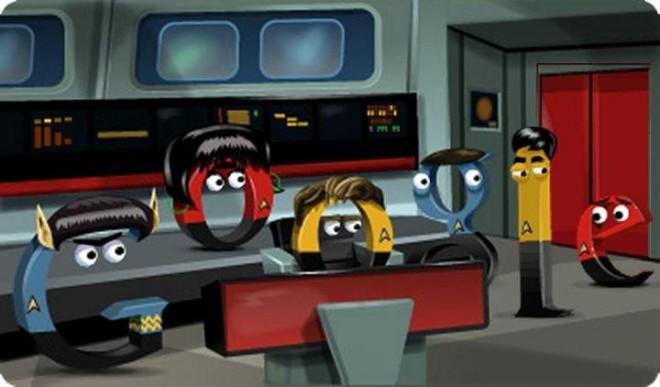 Google on Saturday celebrated the 46th birthday of the science fiction television series Star Trek with an interactive doodle tribute.
The doodle spells out the names of the science giants. The letter G represents the first officer of the series Spock, communications officer Lt. Nyota Uhura as 'O' and the second of is marked by that of James T Kirk. Dr Dammit is 'g', Lt. Hikaru Sulu and the usually expendable "redshirt" are represented by the letters 'l' and 'e' respectively.
Star Trek was an American science fiction television series that was aired on NBC in the US from September 8, 1966 to June 3, 1969. Although this television series had the title of Star Trek, it later changed the title to Star Trek: The Original Series to differentiate the fiction from other television shows
The Google homepage not only assembled the characters of the fiction, but also made it as an interactive tribute to the series. Nonetheless, not all the letters of the Google logo respond to every mouse clicks, but clicking on the helm will produce some typical sounds of the adventurous journey which sounds similar to the distinctive Star Trek effects. The doodle also reels a series of interactive journey of Star trek which showcases the adventurous triumph of Capt. James T. Kirk over an alien.
Google search engineer Amit Singhal, a man who played a vital role in making an innovative homage to the original series of Star Trek, has written about the hard work went behind the creation of the 46th birth anniversary of Star Trek in his Google+ account.
"Every scene has hidden surprises you absolutely have to discover for yourself, especially the fate of the Redshirt. A team of outstanding designers and engineers, and numerous Star Trek fans at Google, got really creative with this one," he said.
Star Trek is the second TV show to be featured in Google doodle. The 50th Anniversary of the popular animated series The Flintstones was celebrated on September 30, 2010.