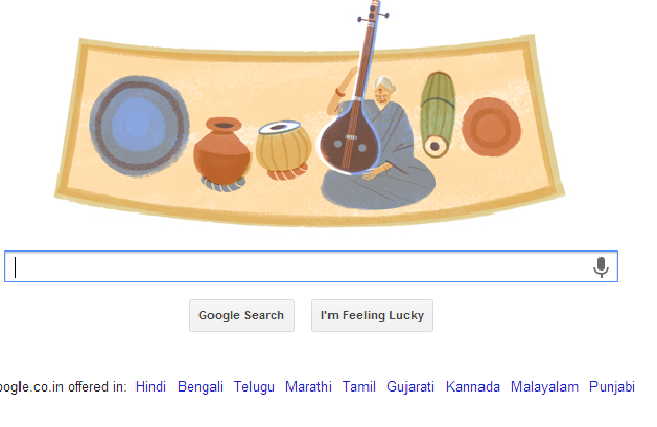 Search engine giant Google celebrated India's renowned vocalist MS Subbulakshmi's 97th birthday on Monday with a new doodle on its India homepage.
The doodle shows the music exponent, Subbulakshmi, in a saree with her trademark red and black bindi. She is featured holding a tanpura with a table and ghatam on her left and mridanga on her right.
Subbulakshmi was born into a family of musicians in Madurai, on 16 September 1916. Fondly known as Kunjamma, she learnt her first lessons in music under the supervision of her mother, who was a Veena player.
Jawaharlal Nehru described Subbulakshmi as the 'queen of music'. "Who am I, a mere Prime Minister before a queen, a queen of music," he had said.
Subbulakshmi had her first recording released at the age 10 years old. At 13, she made her first public appearance in 1929 at the prestigious Madras Music Academy.
She was trained by Semmangudi Srinivasa Iyer for Carnatic music and learnt Hindustani classical from Pandit Narayanrao Vyas.
She was the first Indian vocalist to have received the Bharat Ratna, India's highest civilian award, for her remarkable contribution to Carnatic music, in 1998.
Subbulakshmi, popularly known as MS, is also the first Indian musician to have received Ramon Magsaysay, Asia's highest civilian award, in 1974. She garnered several other awards including Padma Bhushan during her lifetime.
Known for her devotional melody, Subbulakshmi sang in other regional languages such as Tamil, Kannada, Gujarati, Hindi, Malayalam, Telegu, Bengali and Marathi.
Besides singing, she also acted in Tamil films. Her first film "Sevasadanam" was released in 1938.
Subbulakshmi died on 11 December 2004 at the age of 88. She was one of the first Indian classical vocalists to have travelled across the world including New York, London and Canada, inspiring the fusion of rock and classical music.