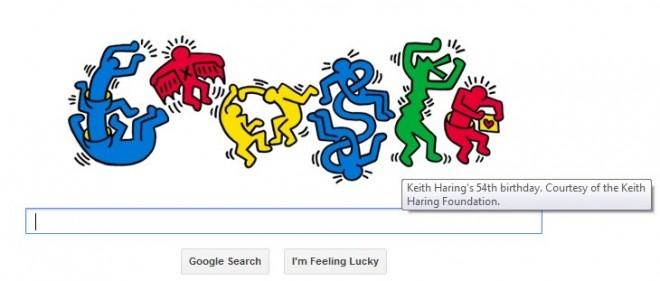 Google is celebrating the 54th birth anniversary of American artist and social activist Keith Haring with a new doodle.
The doodle pays tribute to the artist using colourful dancing figures inspired from Haring's pop art work.
Haring was born in 1958 in Pennslyvania and developed the skill of drawing cartoons at a very early age. After completing high school he moved to New York City to pursue his passion for art. His pop art work was inspired from the New York City street culture of the 1980s.
Haring began to create drawings in white chalk upon unused advertisement panels covered with black paper in the subway station. He gained recognition by producing hundreds of such public drawings in the station in the 1980s.
In 1986, he opened a small Pop Shop in Soho. He sold T-shirts, toys, posters, buttons and magnets bearing his images. He later developed a friendship with Andy Warhol, another American artist known for his pop art. Warhol helped Haring connect with then rising pop stars including Madonna. She became a regular customer at his shop.
The singer regarded Haring's art work as a major influence upon her success. She has said "Keith ... managed to take something from what I call street art, which was an underground counterculture, and raise it to a pop culture for mass consumption. And I did that too," reports the Guardian.
By 1989, Haring achieved international recognition and took part in various exhibitions. His popular works include "The Radiant Baby," which became his symbol. One of his final art works includes the mural called the "Tuttomondo" reflecting six animations for Sesame Street.
After Haring was diagnosed with Aids, he set up a Keith Haring Foundation in 1989 to raise funds for Aids organisations. He devoted his time creating social awareness about the disease through his work.
On Feb. 16, 1990, Haring died of Aids-related complications. More than 1,000 people took part in the memorial service arranged for him.
To pay homage to the artist, Madonna declared her first Blond Ambition World Tour in New York as a benefit concert in Haring's memory.
Even after his death, Haring's works are still popular and can be seen displayed in several exhibitions around the world.