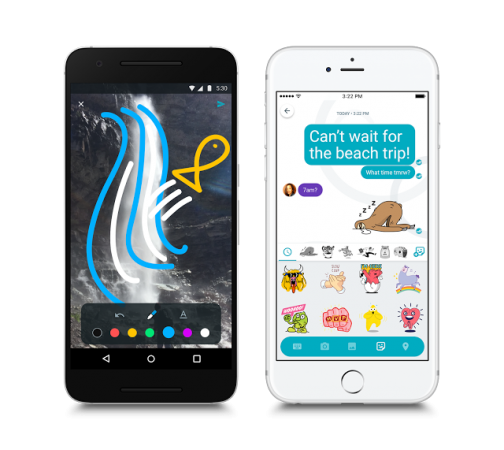 There is no shortage of internet-based messaging apps and people use them to stay connected with their friends and families across the globe. WhatsApp, Facebook Messenger, Apple iMessage, Google Hangouts and Viber are some of the popular messaging apps that have become a vital part of people's daily communication.
As our messaging habits evolve, we tend to look for new options to communicate with others. Earlier it was the need for fun emojis and stickers and then users focused on privacy of the information they share with others. Most of us have our favourite messaging apps, no matter what feature they offer or don't, but Alphabet's Google wants us to give a new messaging app a try.
Google Allo is the latest cross-platform internet messaging app available for Android and iOS smartphones. While the incumbent apps help people communicate with others, Google Allo has integrated a smart AI helper – Google Assistant – into the app to help users with anything and everything.
Google Allo combines fun and security of user information with end-to-end encryption. The app's Google Assistant is certainly the highlight, which expands Allo's boundaries beyond messaging. International Business Times, India, took Allo for a spin and dug into the core features of the app to see if WhatsApp, iMessage, Facebook Messenger have met their match.
Let's look at the highlighted features of Allo one by one.
Google Assistant
The smartly integrated Google Assistant in Allo pokes its nose everywhere, but in a good way. Besides being able to chat with Google's AI to get any information on weather, sports or news, Google Assistant barges into your chats with friends to suggest what you can say next. A pretty smart move, but not so accurate, which makes it hard to rely on.
In Google's defence, Google Assistant is listed as Preview Edition, and hopefully the final version will have a more accurate reading. But during a one-on-one chat with Google Assistant, we found it pretty helpful with both getting information as well as suggesting the right kind of replies. Also, the suggestions tend to improve with more people using the app.
While chatting with your friends, you can also invoke Google Assistant by typing @Google followed by your query. This smart feature lets you and the recipient get the info you both need without having to leave the app.
In our view, Google Assistant is the primary reason you should download and use Allo.
Privacy at best
If users are concerned that their private chats may be at risk, Allo offers an incognito mode to communicate with end-to-end encryption. Start encrypted chats by tapping new message icon at the bottom and select "Start incognito chat".
Google has taken a page from Snapchat on this and tweaked it a little bit in a sensible way. When a user starts incognito chat, there is an option to choose for how long the message can be read before it vanishes into thin air. The private chat is kept absolutely discreet, and even keeps Google Assistant away, which means no word suggestions by the AI.
If you prioritise privacy, Google's Allo gives you a reason to stay.
Chatting made fun
Allo is loaded with funny stickers, which are designed by independent artists from studios around the world. This brings fresh stickers instead of the same old ones being recycled from one app to another. Google Allo also has a feature called Ink, which lets users doodle on photos before sharing them, which is pretty cool and worth checking out.
The interface of the app is neat, simple and swift, which doesn't give users a hard time to look through different options. All chat related options such as sharing a photo, sticker or location can be found under the '+' sign in the typing window. The settings, profile info and blocked contacts are placed in the left panel and starting a new chat can be done by tapping the message icon at the bottom right hand corner of the app.
Is Google Allo my new messaging app?
For starters, Google Allo is presented with pretty cool stuff and it is tempting not to ignore it. After spending quite some time digging into the app, we found there is still room for improvement. Google Assistant is not at its best yet, even though the integration makes a lot of sense. It doesn't have anything completely out-of-the-box, but Google has made sure the little things it offers are worth it.
Especially, we must applaud Google's efforts with Allo as the app is a long way from Google Hangouts and to some extent we feel there is little room for failure this time. We wouldn't stop you from taking this app for a spin in its novice stage, but it may not be the time just yet to delete your existing apps in favour of Allo.
The app has started small, but it is in a good place right now and a long road ahead before it takes on rivals like WhatsApp and Facebook Messenger.