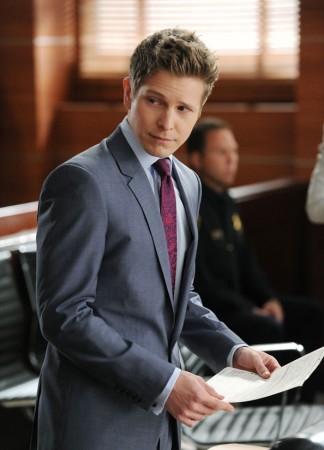 Will Cary Agos (Matt Czuchry) end up in jail has become the burning question of "The Good Wife" season 6 and the mid-season finale (winter finale) episode of the legal drama could mainly focus on his future.
In the last episode titled "Sticky Content", Lemond Bishop (Mike Colter) gave a warning to Agos that if he makes any move against the Drug Lord, the lawyer may end up his life. But if Agos has to prove his innocence, he may have to make some move against Bishop. So it is time for him to choose between his life and death.
However, the synopsis of the winter finale episode indicates that when Cary's case goes to trial, a plea deal offer has him seriously considering jail time. But the plea deal offer seems to have some clause attached to it, according to an exclusive trailer released by TV Guide.
In the sneak peek video of "The Good Wife" season 6 episode 10, Agos tells Kalinda Sharma (Archie Panjabi), "They're going to convict me, Kalinda. We don't have a case. I look at the jury, and they want to put me away."
Meanwhile, several rumours are doing the rounds that a new character called Tim will be joining the cast list of "The Good Wife" season 6. He is said to be the prison consultant, who will be hired to give Cary a day-long session on how to survive in prison.
On the other hand, Alicia Florrick (Julianna Margulies) and her husband Peter Florrick (Chris Noth) could make their first public appearance after she launched her campaign for State's Attorney.
"Alicia needs to shore up her support among police and firefighters – not due to anything she did wrong, but because Peter, as governor, has been messing with their pensions. Alicia also deals with her own private knowledge that the opposition has compromising photos at their disposal," Executive Producer Robert King told People Magazine.
As the two spend more time with each other, they may realise the need to be together and decide to lead a happy married life.
Tune in to CBS on 23 November at 9:30 pm to know more about the developments in the storyline of "The Good Wife" season 6.