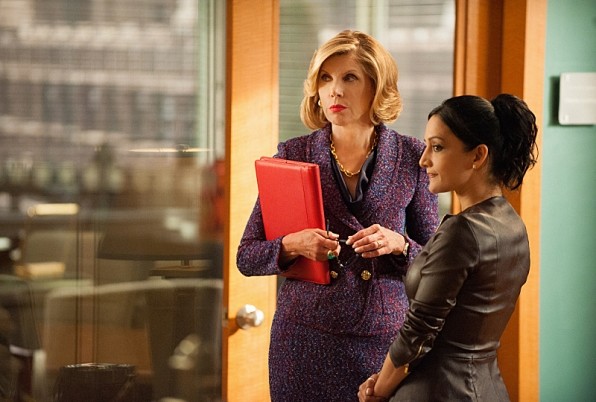 CBS will air "The Good Wife" season 6 episode 19 titled "Winning Ugly" on Sunday, 12 April, at 9pm and it will revolve around Diane Lockhart (Christine Baranski) and Kalinda Sharma's (Archie Panjabi) relationship.
With just few weeks left for the finale, creators are exploring various storylines linked with Panjabi's character, who will make an exit towards the end of season 6, and the most important among them is her illegal move to save Cary Agos (Matt Czuchry). While viewers will get a glimpse of the plot in episode 18 titled "Loser's Edit", it will be addressed in detail next week.
The official synopsis of "Winning Ugly" states Diane will realise she unwittingly submitted false evidence in Agos' case and it may lead her to move against the detective.
Meanwhile, it will be interesting to watch how Baranski's character manages to save Czuchry's character and Florrick/Agos/Lockhart before the information gets leaked.
In State's Attorney office, the newly appointed Alicia Florrick (Julianna Margulies) will continue to find ways for hiding the secrets that helped her win.
When potential voter fraud is discovered in the State's Attorney election, Eli (Alan Cumming) and Margulies' character will take steps to stop a recount by enlisting the help of a well-respected civil rights lawyer, Spencer Randolph (Ron Rifkin), states the description of next sequel.
So fans of the legal drama fans can mark their calendars to watch a few thrilling sequences of the show on 12 April. Until then they can check out a television interview with Alicia.
Tune in to CBS this Sunday, 5 April, at 9 pm to watch "The Good Wife" season 6 Episode 18 titled "Loser's Edit", which will be live streamed here.