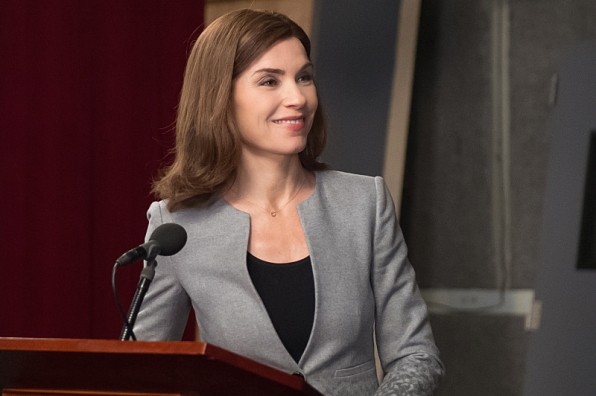 "The Good Wife" season 6 mid-season premiere follow-up will once again focus on Alicia Florrick's (Julianna Margulies) campaign for State's Attorney and Cary Agos' (Matt Czuchry) criminal case.
With the casting of Chris Matthews in the upcoming episode, Alicia will have another road block coming her way in "The Debate".
When the mid-season premiere of the legal drama aired on CBS last Sunday, the candidate for State's Attorney outshined her husband Peter Florrick (Chris Noth) in the mock debate session. But the trailer of next episode indicates that her success will not be repeated.
The 20-second-long sneak peek video shows her in a confused state during the debate with Frank Prady (David Hyde Pierce).
While Alicia and Prady square off in a crucial debate, the Governor of Illinois will prepare himself for a potential riot in the city of Chicago, stated the synopsis of "The Good Wife" season 6 episode 12 titled "The Debate".
On the other hand, Agos may have to face another trail for his drug case because of Kalinda Sharma (Archie Panjabi). In "Hail Mary" she falsified some information to help her friend but it may back fire on him in the upcoming episode.
But the trailers of "The Debate" do not reveal much about Agos' trial and the viewers will have to wait until 11 January to know more about Alicia, Peter, Agos and Prady.
Meanwhile, Rachael Harris will guest star in "The Debate" as Franny Zissis, the Mayor of Chicago.
CBS will telecast "The Good Wife" season 6 episode 12 on CBS this Sunday at 9pm.