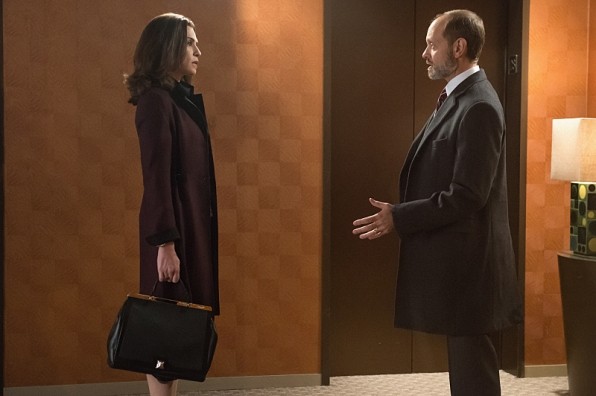 With just a week left for the mid-season finale episode of "The Good Wife" season 6, the viewers are keenly waiting to watch "Sticky Content" to know more about the developments in the life of Alicia Florrick (Julianna Margulies) and Cary Agos (Matt Czuchry).
As per the trailers of the ninth episode, Alicia and Agos will have to be very careful while taking important decisions in life because many challenges are going to come on their way.
Here are six things the viewers must know before "Sticky Content":
1. Episode 8 Recap: In "Red Zone," Frank Prady (David Hyde Pierce) officially announced his candidacy to run for State's Attorney and James Castro (Michael Cerveris) withdrew his nomination.
2. Alicia Florrick vs Frank Prady: The sneak peek video of the upcoming episode shows Prady trying to convince Alicia to be sincere in her campaign.
He has some information against her, which he got from Castro before he left the raise. Castro wanted Prady to use those information against Alicia but he does not want to do it. "I will never go never go negative and I'm asking you to do the same," he says.
Meanwhile, the official synopsis of "The Good Wife" season 6 episode 9 indicates that Alicia will face a new crisis of conscience when she is encouraged to go negative in her campaign for State's Attorney.
3. Peter-Alicia to Become Power Couple: Peter Florrick (Chris Noth) and his wife Alicia have never led a happy married life ever since their marriage. But the Governor of Illinois and the candidate for State's Attorney may have to pretend to be a power couple at least in front of the media and the public, since Alicia's opponents could take her unsuccessful married life as an element for the campaign.
4. Cary Agos vs Lemond Bishop: The trailers of "Sticky Content" shows FBI agents from Chicago informing Agos about Bishop's (Mike Colter) plans to kill him. They seek his help to collect evidence against the drug lord, but he does not take it seriously and refuses to help them.
5. Guest Stars: Guest stars to appear in "The Good Wife" season 6 episode 9 includes Jill Flint as Lana Delaney, Steven Pasquale as Jonathan Elfman, Connie Nielsen as Ramona Lytton, Sarah Steele as Marissa Gold, Matthew Porretta as Ian Gatins, Eric Ruffin as Dylan Bishop, Victor Williams as Carter Greyson, Patricia Kilgarriff as Meredith Prady, David Krumholtz as Josh Mariner, Michael Rispoli as Agent Stu Harper, Karl Miller as Editor Dafoe, Jason Babinsky as Howell, Jeff Gurner as Brad and Lizbeth MacKay as Sandra.
6. Episode 10 Spoilers: "When Cary's case goes to trial, a plea deal offer has him seriously considering jail time. Also, a joke between mother and daughter lands Alicia in trouble as her campaign for State's Attorney is in full stride," according to the synopsis of "The Good Wife" season 6 episode 10.