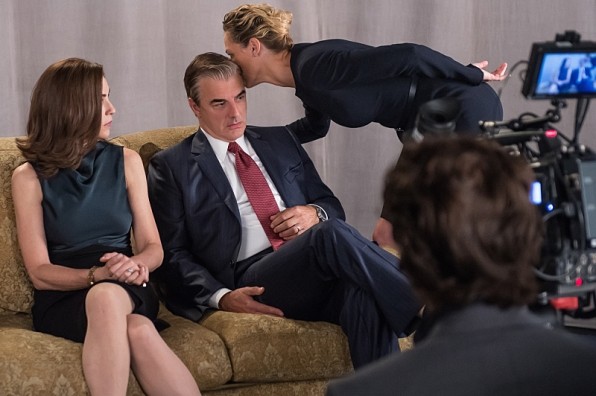 With just days left for the mid-season finale episode of "The Good Wife" season 6, last sequel of the legal drama has followed Alicia Florrick (Julianna Margulies) and Cary Agos (Matt Czuchry) as they are passing through the most crucial moments of their lives.
While Alicia gets more involved in her campaign for State's Attorney, Agos tries to solve the mystery behind the new wire tape, which reveals that Lemond Bishop (Mike Colter) has plans to kill him.
Sunday night's episode of "The Good Wife" season 6 also indicated the beginning of a new rivalry between Kalinda Sharma (Archie Panjabi) and her lesbian friend FBI agent Lana Delaney (Jill Flint).
The show began with Alicia's campaign for State's Attorney, wherein she makes new promotional videos with the help of her campaign manager Johnny Elfman (Steven Pasquale), Eli Gold's (Alan Cumming) daughter Marissa Gold (Sarah Steele) and campaign media specialist Josh Mariner (David Krumholtz).
Meanwhile, Frank Prady (David Hyde Pierce) gives her a surprise visit with a box filled with dirt against Alicia and her husband Peter Florrick (Chris Noth). He tells her that he wouldn't use it against her because he doesn't like to go negative with the campaign and convinces her to do the same.
Despite the intentions of the two candidates for a fair campaign, things go wrong when a video appears online with a title "Who's Alicia in bed with now?" However, Prady promises Alicia that he was not aware of it. Yet, things do not end up there because another video portraying Prady as crypto-conservative dinosaur appears online.
Meanwhile, the storyline of "Sticky Content" also take the viewers through a sequence between Alicia and Peter, wherein the candidate for State's Attorney asks her husband to keep a distance from his legal counsel Ramona Lytton (Connie Nielsen).
"Zip up your pants, shut your mouth and stop banging the help," she says.
On the other hand, Agos receives a confidential information from the FBI agents about Bishop's plans to kill him in a week's time but he does not take it seriously. However, Diane Lockhart (Christine Baranski) informs Sharma about it.
By the time Sharma confirms the news through her girlfriend Delaney, Agos walks into the Drug Lord. Though the Bishop admits that he had plans to kill him, he assures the lawyer that he wouldn't hurt anybody until they hurt him.
And the show ends with the FBI agent Delaney being questioned by her superiors about the leaking of confidential information, which could turn out against Sharma since she was the only one who could access the wire tape.
It remains to be seen whether Delaney will leave her prestigious job for Sharma or make a move against her in the next episode of "The Good Wife" season 6.