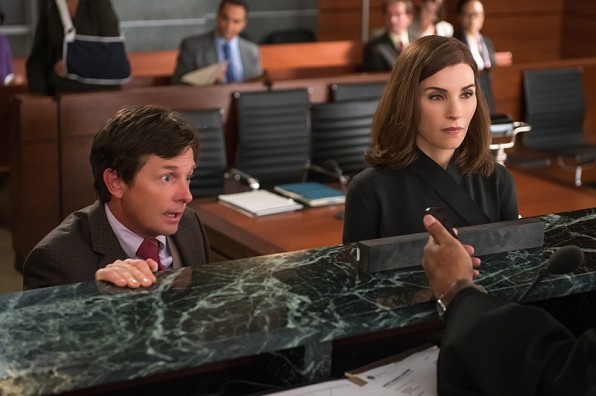 Alicia Florrick's (Julianna Margulies) run for State's Attorney will have a bigger shake this week with the announcement of Frank Prady's (David Hyde Pierce) candidacy in "The Good Wife" season 6.
Eli Gold (Alan Cumming) and Johnny Elfman (Steven Pasquale) will try everything to reduce the impact of new potential candidate on Alicia's campaign, but their attempts are dampened, thanks to the media for the trending news about Governor's wife - "Saint Alicia 'Works' The Soup Kitchen."
The news will turn out to be a disaster for Alicia's candidacy for State's Attorney and now it is time for her to dive into the campaign.
However, things will turn against Alicia in "Red Zone" when she decides to take up a college rape case that has been moved from university hearing to civil court. And a rivalry will be renewed with the entry of Michael J. Fox as Louis Canning.
As the storyline on Alicia will start to take a shape in "The Good Wife" season 6 episode 8, the trailers of "Red Zone" indicate that it is probably time for Cary Agos (Matt Czuchry) to go back to jail again.
The new evidence that Agos was responsible for losing potential evidence against Bishop Lemond case could in fact turn the table against him. Because a sneak peek video of the next episode points out that he is just 14 days away from spending a decade in prison.
"Cary, do whatever you have to do, whoever you have to talk to, to get you out of the game. You are 14 days away from spending a decade in the prison," Diane Lockhart (Christine Baranski) tells Agos in the promotional clip.
Now, it is time to ask whether Agos is still hiding something about the criminal case from Alicia and Lockhart. If yes, what is it and will he open up in the new episode.
Watch the Sunday night's episode of American legal drama on CBS at 9.30 pm to find out more about Alicia and Agos. "The Good Wife" season 6 episode 8 titled "Red Zone" will be live streamed here.
Sneak peek videos of "Red Zone" are below: