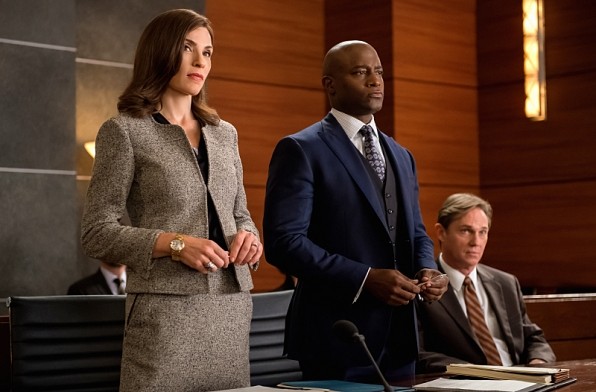 As the TV World is eagerly waiting to watch the developments of Cary Agos' (Matt Czuchry) arrest, next episode of "The Good Wife" season 6 titled "Dear God" will take viewers to the court room.
As per the recently released sneak peek video, the episode will be on Cary's freedom. The one-minute-long video shows a heated argument between Alicia Florrick (Julianna Margulies) and Dean Levine-Wilkins (Taye Diggs), the new equity partner at Lockhart/Gardner law firm.
Meanwhile, Cary's pretrial officer, Joy Grubick, warns him: "Mr. Agos, you can't live life the way you used to. Or you will end up behind bars again."
Though the clip does not disclose much about Cary's future, he looks confident and believes that Diane Lochart will get him out one way or the other.
The official synopsis of "The Good Wife" season 6 episode 3 reads: "Cary's freedom lies in the hands of his pretrial service officer, Joy Grubick, as she interviews his colleagues to determine whether or not he should remain behind bars. Meanwhile, Alicia and Dean find themselves in unfamiliar territory when a client's case ends up in Christian Arbitration."
However, another teaser of the next episode of the most anticipated legal drama, released by CBS, takes the audience to an all new plot, which is more related to the episode's title "Dear God".
In a 30-second-long clip, Alicia asks Wilkins, "Do you still believe in God?" and he replies "yes" and asks her whether she believes in god. "No, I don't think I'm directly built to believe in god," she answers.
The footage indicates the start of a new relationship between Alicia and Wilkins but the viewers will have to wait until Sunday night to know more about the storyline of "Dear God".
Apart from the thrilling sequence, feminist activist Gloria Steinem will share screen space with Julianna Margulies in the upcoming episode of "The Good Wife" season 6. Other guest stars to appear in "Dear God" include Robert Sean Leonard as arbitrator Del Paul and Linda Lavin as pretrial service officer Joy Grubick.
Watch the sneak peek of "Dear God" below: