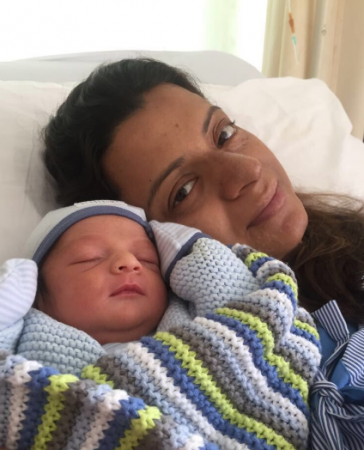 The gorgeous Pahadi girl and Kangana Ranaut's sister has given birth to a baby boy. She has named him Prithvi Raj Chandel.
Rangoli took to Twitter to share the news, captioning the picture as: Dear friends meet our son Prithvi Raj Chandel
Rangoli married her childhood friend Ajay Chandel in a simple ceremony in Delhi in 2011 and after seven years of matrimonial bliss, the couple are now parents.
Congratulations.
Look at the pictures posted by Rangoli. isn't he adorable?
Reportedly, Rangoli had a miscarriage during her first pregnancy sometime last year and so she took extra precautions during this time.
Rangoli made headlines during Hrithik Roshan and Kangana Ranaut controversy. She went on a Twitter rant against Hrithik Roshan and also lambasting the people in the industry who have come out in support of the actor over his ongoing tussle with the Queen actress.
When Farhan Akhtar penned down his opinion on Facebook, Rangoli tried to bring him down by calling his opinions as biased towards the Krrish actor. She further went on to rub Karan Johar (with whom Kangana had locked horns over nepotism) and Sonam Kapoor in a wrong way who appreciated and seconded Farhan's opinions and tweeted in support of Hrithik.
"Even if entire industry stands against her she will still survive because she is the chosen one," Rangoli challenged the film fraternity who have turned their back against Kangana in this matter.
But well, that issue has now ended and there's a new leaf in Rangoli's life now.