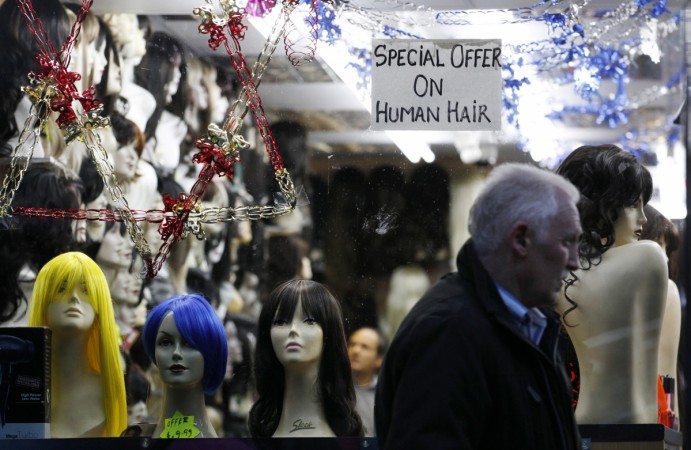 Tonsuring heads is a practice common among Hindus in India, especially in the southern parts of the country. They hope to please God and expect achche din by shedding their hair, often lustrous in case of women. The temple in Tirumala (also called Tirupati temple or Balaji temple) is famous for such generous offerings by devotees, an act that enables the temple authorities to earn money out of it and put it to good purpose.
The temple authorities are expecting to earn Rs 220 crore from sale of tresses this fiscal, marking a growth of Rs 20 crore from the previous financial year.
The Tirumala Tirupati Devasthanams (TTD), which manages the Sri Venkateswara Swamy Temple, was quoted as saying by a journalist writing for The Economic Times that tonsuring of hair this October during the Brahmotsavam has gone up sharply.
"This season we achieved 45% hike in tonsuring, an all-time record... One of every two devotees who came to Tirumala for the Brahmotsavam offered the hair," Sri Venkataiah, deputy executive officer of the Kalyana Katta, the tonsuring platform at the temple, was quoted as saying by G S Radhakrishna in the business daily.
Of the approximately 7 lakh devotees, who visited the hill shrine this year during the Brahmotsavam festival, about 3.4 lakh, including 1.7 lakh women, offered their hair, a ritual common at many Hindu temples, especially in Tirumala.
The TTD switched to e-auction of the hair on a monthly basis from January 29, 2015 for speedy disposal and healthy competition, instead of the quarterly auction system. The e-auction is handled by MSTC, a public sector undertaking.
The ET report said that India's annual hair exports fetch about $800 million every year and are estimated at about 4,000 tonnes. China is the biggest buyer, followed by Brazil, Hong Kong, Italy and the US.
There are six varieties of hair, as listed by the MSTC. Broadly speaking, there are two categories — Remy hair (that commands high price) and non-Remy.
The earnings from sale of hair and other activities is used for charitable purposes by the TTD.