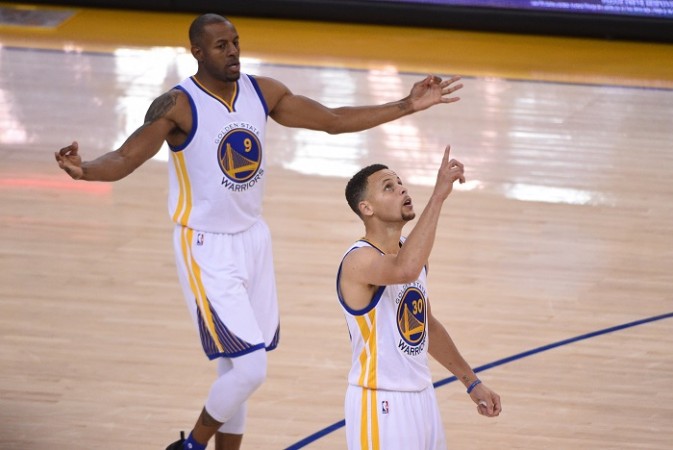 Was there every any doubt that the Golden State Warriors, led by that three-point machine Stephen Curry, would break the Chicago Bulls' regular season record and notch their 73rd win of the season? Curry was at his ridiculous best again and the Warriors overwhelmed the Memphis Grizzlies in a 125-104 blowout to post the best record in NBA history at 73-9.
Curry was unstoppable in the first three quarters, finishing with 46 points in 15 of 24 shooting, as the Warriors made history, breaking a record that many thought would never be broken, when the Jordan-led Bulls won 72 games 20 years ago.
"Congratulations to the Golden State Warriors on their 73rd win and the best regular-season record in NBA history," NBA commissioner Adam Silver said in a statement. "The team held itself to a high standard throughout the season, playing with purpose every night and captivating fans around the world with its free-flowing style, spectacular shooting and flair for the dramatic.
"Kudos to the entire Warriors organization."
The win was never in doubt, really, from the tip-off as Golden State took control, with Curry finding his three-point range with consummate ease. The guard had 25 points in the first half, going 8/14, with seven of those coming in three-pointers. Owing to Curry's success, the Warriors led the Memphis Grizzles 70-50 at halftime, and from there it was just a question of how many points Golden State will win by, rather than if.
Curry had time to make some history at the start of the start of the third quarter, making his eighth three-pointer of the game to notch up his 400th of the season – goes without saying that nobody else in NBA history has done that.
With the stars sitting for the majority of the fourth quarter, the Warriors bench ensured the win would be big, comprehensive and historic, with Michael Jordan's Chicago Bulls pulled down to second in the best regular season record order.
"It's a great way to finish off what was an amazing regular season,," Golden State coach Steve Kerr, part of the Bulls team of 1996, said. "I just told our guys I never in a million years would have guessed that that record would ever be broken.
"I thought it was like (Joe) DiMaggio's hit streak, really. I was wrong, but I will say the same thing now that I said 20 years ago, 'I don't think this one will ever be broken.' Somebody's got to go 74-8. I don't see it, and I hope our fans aren't expecting that next year."