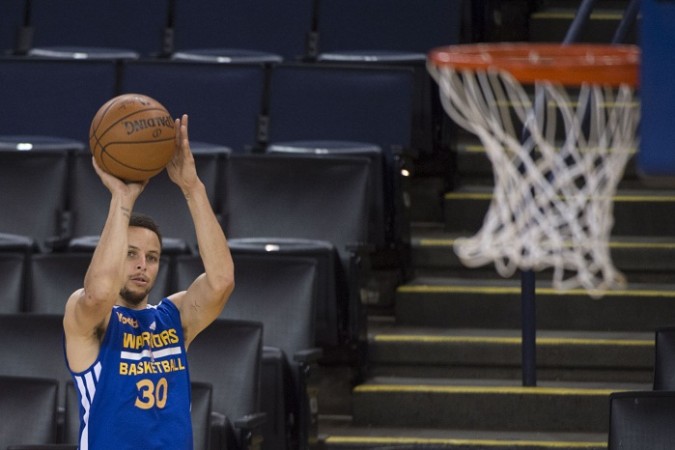 The Golden State Warriors have been the best team this season, and are gunning for back-to-back titles as they are set to face Cleveland Cavaliers in Game 1 of NBA Final at Oracle Arena in Oakland on Thursday. In fact, it was the same two teams who fought it out for the NBA title last season, where Warriors defeated Cavaliers to win the trophy.
Cavaliers must be well aware of their loss, and will be eager to take revenge in the best-of-seven-series final. Warriors, on the other hand, are keen to win their second NBA title on a trot. Hence, both teams will want to win Game 1 of the final, which could set the tone for the rest of the series.
If Warriors look forward to Stephen Curry for inspiration, Cavaliers have LeBron James. The two are the best players of the NBA, and will play an integral role in the final. No wonder then that more than the teams, fans have been talking about the series as a battle between Curry and James.
But such kinds of things frustrate Curry, who just wants to win another NBA title.
''It's really annoying for me. That's not what I'm playing for, to be the face of the NBA or to be this or that or to take LeBron's throne or whatever. You know, I'm trying to chase rings, and that's what I'm all about. So that's where the conversation stops for me," AP quoted Curry as saying.
But the Warriors are not only about Curry, as they have some incredibly talented players like Klay Thompson, who is one of the best sharp shooters in the NBA, and Draymond Green. In such crunch series like the NBA Final, all the players need to shine, and not just one player.
The best thing about this season's final is that the teams have already been a part of the title-decider last season, so they are aware about the strengths and weaknesses, as the core team of both Warriors and Cavaliers remains the same. With another Warrior vs Cavaliers final and a potential Curry vs James match, people will have plenty of things to talk about this season final as well.
''The fact that we're going back to back, I think, is pretty unique,'' James said.
''It's pretty unique to be in this position to have another opportunity for guys to write about, for us to play it, for the people to talk about it throughout the world. I'm blessed that I can be a part of conversations.''
The Cavaliers will be mighty pleased with their performances in the NBA playoffs so far, defeating teams like Detroit Pistons, Atlanta Hawks and Toronto Raptors. Their biggest test lies ahead, against Curry and co, but they are much more ready than they were in the last season's final, with key players Kyrie Irving and Kevin Love being in fit form.
Where to watch live
Golden State Warriors vs Cleveland Cavaliers NBA Final Game 1 is scheduled for 9 p.m. ET (6:30 a.m. IST, 2 a.m. BST) start. Indian viewers can watch it live on Sony Six/HD, with live streaming on Sonyliv.
Viewers in the US can watch the Golden State Warriors vs Cleveland Cavaliers NBA Final Game 1live on ABC ,with live streaming ABC GO.
BT Sport will provide live coverage of the NBA Final in the UK, while the game can also be live streamed on Watch BT Sport.
NBA fans can also watch the Golden State Warriors vs Cleveland Cavaliers NBA Final Game 1live on NBA.com.