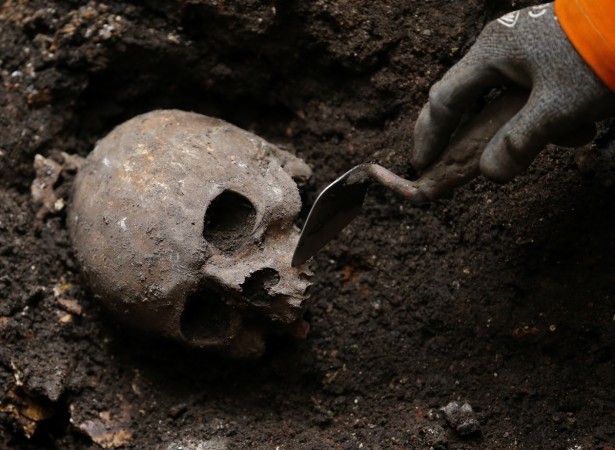 A 1,300-year-old cross that was discovered on the body of an Anglo-Saxon teenage girl in 2011 is set to go on display at Cambridge University's Museum of Archaeology and Anthropology. The Trumpington Cross was recovered by archaeologists from the Cambridge University and would be put on display just a few miles away from where it was retrieved.
The 'bed burial' of the teenage girl aged reportedly between 14 to 18 years is said to be one of the rarest forms of burial methods in the United Kingdom. Metro UK reported that only 15 such burials have been found in the UK to date.
The body dating back to the mid-7th century was excavated in the city of Trumpington, Cambridgeshire. It is said to be one of the earliest Christian burials in the UK. When archaeologists found the bed burial, they also found other possessions belonging to the girl like gold pins, an iron knife, and glass beads. All the items discovered along with body will be on display at the museum.
As per archaeologists, the cross that is estimated to be worth around £80,000 was donated by Grosvenor to Cambridge University's Museum of Archaeology and Anthropology. The excavation happened in Trumpington Meadows, which is a land owned by Grosvenor, one of the world's largest privately owned property businesses.
"MAA has one of the best collections of Anglo-Saxon artefacts in the British Isles – and we are indebted to Grosvenor for their generosity in allowing this beautiful, mysterious artefact to remain in Cambridge." Jody Joy, senior curator at the museum was quoted by Metro.
She further added: "'Taking pride of place in our galleries, the cross will allow us to tell the story of the coming of Christianity to the region and some of the history of this previously unknown Anglo-Saxon settlement – as well as the very early years of the English church after St Augustine was dispatched to England by the Pope in 597AD to convert the pagan Anglo-Saxon kings."