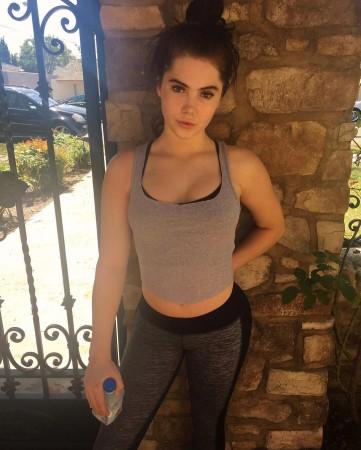 Health issues prevented American gymnast McKayla Maroney from continuing her impact on the sport at the mere age of 18, but even after that tragic decision of early retirement, Maroney has not stopped her quest of learning a trick or two about staying put in the limelight!
The 2012 Olympics gold medallist (American team event) is already an internet sensation as her popular "not impressed" face is already a viral meme since the London Olympics, with the likes of former US President Barrack Obama, too, emulating her.
This week, however, the 21-year-old gorgeous looking Maroney has taken her viral personality to a whole new level....by dancing in just a knicker. The video is one of the most trending ones over the internet currently.
Her booty show has absolutely left internet users with an open mouth, with several non-sports fans as well googling up her name just for a mere piece of the eye candy!
Of course, videos as such do give invitation to a lot of jealous people on the internet vent their hatred. Maroney, a three-time gold medallist in the World Gymnastics Championships as well, has given all those haters a piece of her mind, via a series of Twitter posts.
Maroney, meanwhile, is also trying out a career in movies and pop singing.
hey, im just doing me. if u want me to be a role model so bad, get inspired by how i give 0 fcuks and go do u

— mckayla (@McKaylaMaroney) May 14, 2017
not everyone's gona like u, but if u stay true to yourself they might just respect you

— mckayla (@McKaylaMaroney) May 14, 2017
what held me back the most in this life was leaving myself behind to be what other people needed me to be. once you start it's hard to stop

— mckayla (@McKaylaMaroney) May 18, 2017
so if i leave any imprint behind, i hope it's one that instills the courage to be yourself in a world that instills the opposite.

— mckayla (@McKaylaMaroney) May 18, 2017