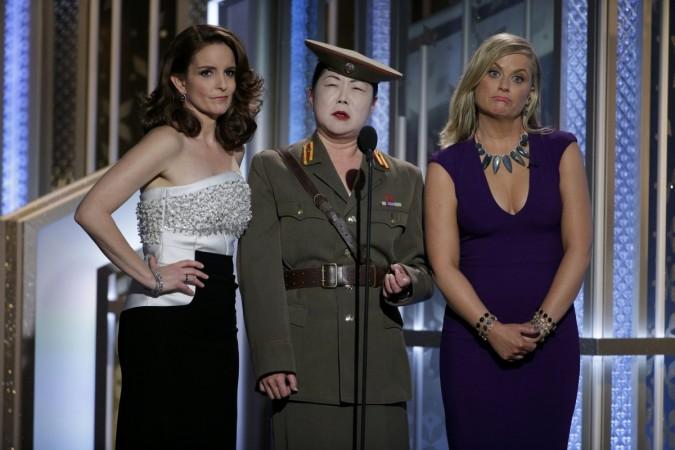 It was not really a surprise – the mention of the Sony cyber attack during the 2015 Goden Globe Awards event. The audience knew this was coming, and may be they were expecting to see a hilarious impression of the incident as well.
Well! It seems they returned home satisfied.
Comedienne Margaret Cho, a Korean-American, played the role of a North Korean general who happens to like American entertainment. Cho appeared repeatedly throughout the show alongside her co-hosts Amy Poehler and Tina Fey.
Poehler and Fey did not waste time in referring to the issue. Fey opened saying, "Tonight we celebrate all the great television shows that we know and love along with all the movies North Korea was okay with," Business Insider reports.
Poehler backed Fey, saying: "That's right. The biggest story in Hollywood this year was when North Korea threatened an attack if Sony Pictures released 'The Interview', forcing us all to pretend we wanted to see it."
Joking further, Fey said: "North Korea referred to 'The Interview' as absolutely intolerable and a wanton act of terror," added Fey. "Even more amazing, not the worst review the movie got."
A while later, they introduced Cho as a "contributor to Movies Wow magazine" and a "North Korean Army General".
Cho demands to be clicked with Meryl Streep, who agreed at once and smiled for the photo snapped by Michael Keaton.
Although it looked like a good act, it was openly criticised on social media. "Still not funny. The Asian stereotyping bit still old, even pretending to be North Korean. Worst bit of the night," tweeted @DaveSaitzyk.
Meanwhile, @LordeBarrington wrote: "'I've always loved margaret Cho but she needs to stop shuckin' for white folk."
Twitter user @HoJoLego went on to say that this was Cho's worst. "This is the worst Margaret Cho joke ever. #GoldenGlobes"