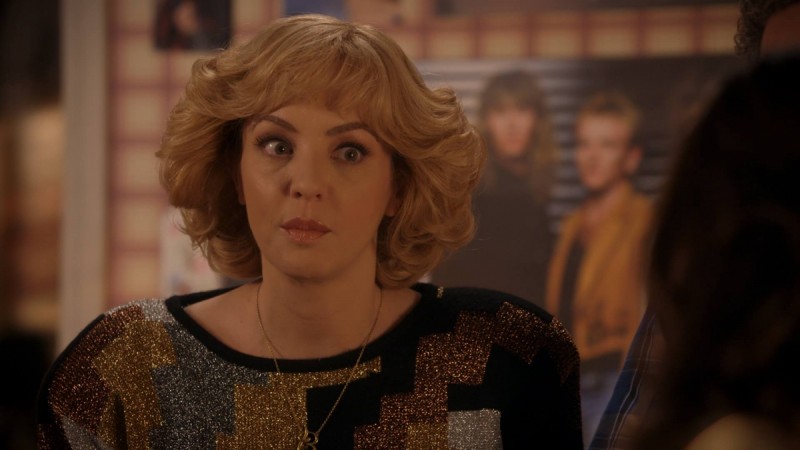 The latest instalment of "The Goldbergs" revolves around Beverly Goldberg's (Wendi McLendon-Covey) feud with her middle kid, Barry (Troy Gentile). In Season 3 episode 21, the mother of three faces a lot of accusations from her son.
Fans of the show will remember Beverly, known more popularly as smother, loves to hug all her three kids. But there are some exceptions to her love. She often grounds Erica (Hayley Orrantia) for being rebellious and rarely takes an interest in Barry's life. Her relentless enthusiasm in her youngest son Adam (Sean Giambrone) begins to annoy Barry, and he alleges in episode 21 she loves Adam more.
While it is not yet clear what prompts Barry to make this statement, Beverly goes into damage-control mode, as is evident in a new picture released on "The Goldbergs" Facebook page. Barry is seen holding a trophy for Best Son. He looks proud while acknowledging the title and his mom stands behind him, indicating she must have gone to great lengths to appease him.
According to the synopsis (via TV Guide) for episode 21, Erica has more teen troubles at home. The senior-year high school student has a new boyfriend and her father doesn't approve. This is hardly surprising since Murray's first response to any new event is coloured with prejudice. However, he has always come around for Erica. Will he do it again?
"The Goldbergs" Season 3 episode 21 airs 8 p.m. EST Wednesday, April 13, on ABC. You can live-stream the episode via ABC Go.