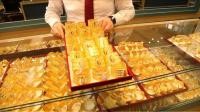 It is common knowledge that raising import duty on gold to curb imports and rein in current account deficit lead to rampant smuggling of the yellow metal into India. Now, statistics on gold seized by authorities have proved it.
The customs, police and revenue agencies seized more than 3,500 kg of gold in 2014-15; valued in excess of ₹1,000 crore, it marks a record high.
The figures pale before those for 2012-13 when authorities seized 350 kg of gold valued at about ₹100 crore.
In the past two years, as the government raised import duty on gold by 10 percent to contain the current account deficit, gold smuggling went up by 900 percent.
Smugglers have also become innovative, exploring new routes to avoid detection. They have started routing gold from Dubai, Thailand and China into Nepal, and then bring it into India.
This is evident from gold seized in Nepal, which saw a spurt of almost 100 percent in 2013-14 over the previous years, when the seized quantity used to hover around 80-100kg annually.
However, the recent earthquake in Nepal has brought smuggling down, since the kingpin of gold smuggling operations there died.
"It's one positive fallout of a massive tragedy. The deceased was the main conduit who coordinated illicit trade from various countries and helped push them into India," an official from the Directorate of Revenue Intelligence (DRI) told The Economic Times.
"Just before Nepal quake, 40kg gold was seized in Silliguri in West Bengal. It came from Nepal. Since then, seizures have been almost negligible," the official added.
Sources said smugglers are using every possible route to send gold into the country, starting from the Morey border in Manipur, Kandla port in Gujarat and the Bangladesh border in West Bengal, besides the "old tested routes" of Sri Lanka to ports in Chennai and various airports from Dubai and Thailand.
Smugglers seem to have been increasingly sending gold through courier parcels.
"This is, however, camouflaged. The courier is of a torch where the batteries are made of gold. Of mixer which has golden blades. Of a transistor which has a capacitor in gold," said a DRI official.