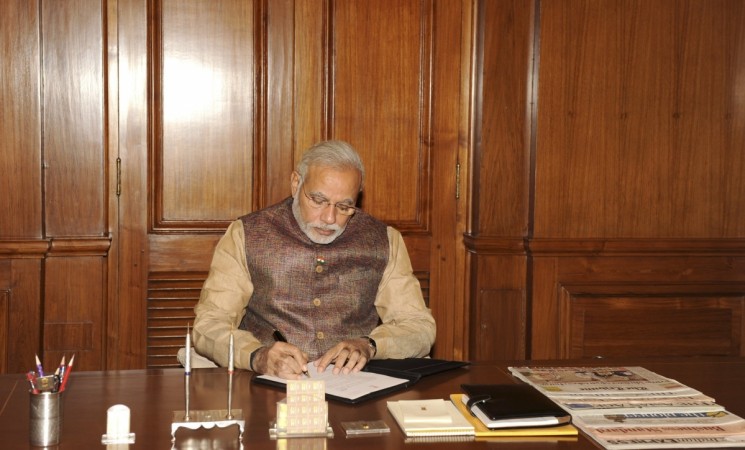 Prime Minister Narendra Modi is expected to hold a high-level meeting with the Government of India Secretaries on Tuesday. The meeting, which is being seen as a first from the PMO, will help Modi outline his agenda of governance to the top bureaucrats.
As per reports, Modi will meet secretaries of all departments and get a briefing on the various sectors. On Saturday, the top bureaucrats were issued a circular stating that they will be given ten minutes to present a 10-slide presentation before the PM.
This is aimed at enabling the bureaucracy to work shoulder to shoulder with the government and it is the first time such a meeting is being held in the absence of the ministers, reported The Indian Express.
While Former Prime Minister Manmohan Singh reportedly conducted a meeting of all State Chief Secretaries to discuss the drought issue, he never held a meeting with the GOI secretaries - the backbone of Indian administration.
Earlier on Monday, Modi held his first meeting with the Council of Ministers, the highlight of which was the fact that he had asked all the ministers to attend the meeting without the secretaries.
In the meeting, the PM reportedly laid down several tasks before the 45-member council, including orders to submit progress report on various projects. In the meeting, he also advised ministers against employing their relatives.
The meeting with Secretaries on Tuesday is aimed at Modi's belief of holding 'direct interaction' with the bureaucracy. The new Prime Minister, who wants to strengthen governance by streamlining the delivery of public services, would be detailing his policy priorities to the top-bureaucrats.
Modi, who has asked the ministers to prepare a 100-day agenda, is expected to hold several such meetings with the bureaucrats, as this will enable him to keep a tab on the ministers.
The Prime Minister has already given power to individual ministries to take decisions on their own. To cut down delays, Modi on Saturday removed the Empowered Group of Ministers (EGoMs) and Group of Ministers (GoMs), a legacy of the UPA government. These measures will further empower the bureaucrats in processing the administrative work quickly.
Unlike the UPA government, where the babus were given a free run with absolutely no accountability, except a witch-hunt in case of a major mix-up, the Modi government is ensuring that the bureaucrats are answerable.
Holding separate meetings with the concerned ministers and department secretaries, Modi government will bring in a centralized manner of functioning, ensuring that the bureaucrats are responsible for their departments.