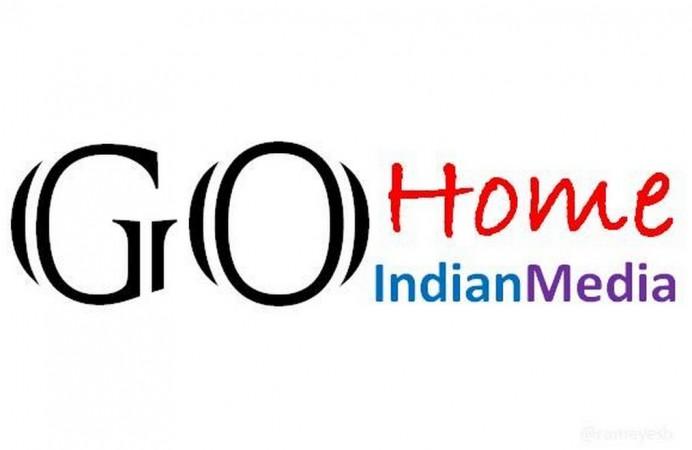 On a day when the world celebrates free press and pays tribute to journalists who lost their lives in the line of duty, people on social media platform Twitter are shaming the Indian media with trending hashtag #GoHomeIndianMedia.
Though this is not the first time that the Indian media is being slammed by people, this incident gains prominence because the day marks the freedom of press and their functioning as the fourth pillar of the Indian democracy. However, the twitterati believe that the media has been failing on its duty for quite some time now.
Hitting out at news channels and journalists, twitterati from across Nepal and India are asking Indian mediapersons to leave the Himalayan nation and return to their homes. They have accused the media of making up stories, being insensitive with interviews of earthquake survivors and the 'dramatic TV serials-like' news coverage.
Nepal teaching In Indian media how to cover disasters happened on humanity. #GoHomeIndianMedia pic.twitter.com/PEWvnvck9v

— Being Me... (@syamjee) May 3, 2015
This is why.. #GoHomeIndianMedia pic.twitter.com/uxQzj5d0U4

— बुढो मान्छे !! (@karkidlip) May 3, 2015
Absolute over dramatization of incidents in Nepal has pissed us off!! #GoHomeIndianMedia. https://t.co/k84BsDZ89O — Mahesh Gautam (@max_gautam) May 3, 2015
I have no idea how we tolerate our media A country like Nepal could not stand them for6 days,inspite of #NepalEarthquake #GoHomeIndianMedia

— Navjot Singh Sidhu (@imsujitagrawal) May 3, 2015
An indian news reporter to a mother who's learnt her only son has been buried under their house. Q. How do you feel? #GoHomeIndianMedia
— Prasanna KC (@KC_Prasanna) May 3, 2015
Do not manipulate the fact and hurt the innocent Nepalese making us hopeful! #GoHomeIndianMedia — Leela Limbu (@leelajuni) May 3, 2015
Indian media should boycott Modi fanboys like @rahulkanwal @gauravcsawant @ShivAroor. These sycophants bring bad name. #GoHomeIndianMedia — Mr. Walter White (@Homer2bart) May 3, 2015
Thank you #IndianGovernment for your kind help, but we are fed up of Indian Media, #GoHomeIndianMedia — थापा दाई (@notonlyraj) May 3, 2015
We are thankful for the help you provided. But your journalism is unbearable. Please leave Nepal. #GoHomeIndianMedia — Surendra Sapkota (@sapkotasurendra) May 3, 2015
You know what we people think about you? @aajtak @abpnewstv @ZeeNews Check the 4th Trend #Trending Worldwide And #FuckOff #GoHomeIndianMedia — डा.मेन्टल (@jhyaulagyo) May 3, 2015
Nepali are saying #GoHomeIndianMedia and Indian are also saying same to the Indian media. I wonder where is the home of Indian media? — RAMESH BHAMBHU (@iambhambhu) May 3, 2015
The other day an Indian News Channel was showing how the earthquake was the end of Nepal. #shame #GoHomeIndianMedia — Bikash Gupta (@bikashgupta3140) May 3, 2015
#GoHomeIndianMedia They learn to draw a line between reporting a news and sensationalising a news, but they are like tail of dog....Hmmm :(

— Jassi (@Fukra_no1) May 3, 2015
Quake kaise aaya, aapko kaisa laga,aap bach gayai.yeh qes puch raha tha indian media.#GoHomeIndianMedia

— Ashutosh jha (@jhamaithil) May 3, 2015