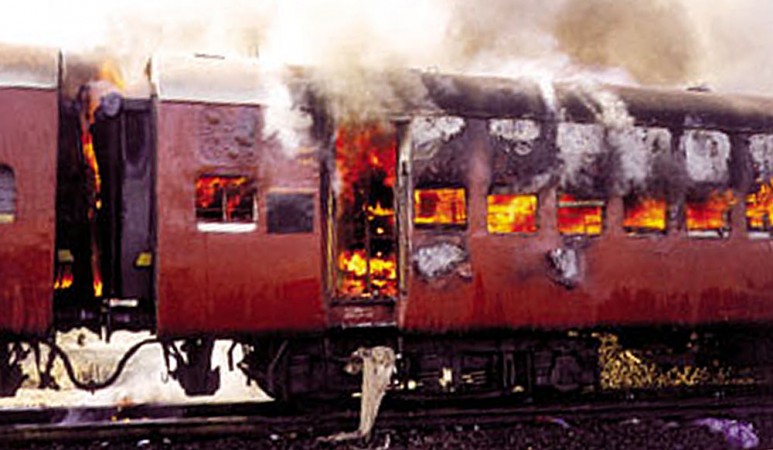 The Anti-Terrorism Squad (ATS) of the Gujarat Police on Wednesday arrested Farooq Bhana, the alleged mastermind of the attack on Sabarmati Express at Gujarat's Godhra railway station in 2002. The accused had been on the run since the train was set on fire on Feb. 27 that year, and was living in Mumbai as a property broker.
Bhana, who was then a Godhra municipality corporator, was arrested from Kalol in the Panchmahal district of Gujarat, the Indian Express quoted Superintendent of Police (ATS) Himanshu Shukla as saying. He was reportedly there for "a clandestine meeting with his family members."
"Based on a tip-off, we nabbed Bhana at a toll plaza near Kalol town of Panchmahal district when he was going to Godhra from Mumbai today [Wednesday]. He was the key conspirator of Godhra carnage," News18 quoted an ATS official as saying.
The ATS will hand over Bhana to the Special Investigation Team (SIT) appointed by the Supreme Court to investigate the case. The SIT has registered an FIR against Bhana for allegedly burning down the S-6 coach of the train in which mostly Hindu pilgrims were travelling. They apparently executed the plan when he met other men at the Aman guest house in Phoolan Bazar close to the Godhra railway station.
"Bhana had said in the meeting that the Sabarmati Express would be late, and instead of 2 a.m. it would reach at 7 a.m. He was part of the conspiracy behind burning the train for which 140 litres of petrol was procured following the meeting at the guest house," the IE report quoted an ATS official as saying.
At least 59 people — mostly karsevaks — were killed in the carnage and several others were injured. The Godhra train burning incident led to riots in Gujarat in which more than 1,000 people — mostly Muslims — were killed.
A special court convicted 31 people in February 2011 for the attack. While 11 were given the death penalty, 20 got life sentence.