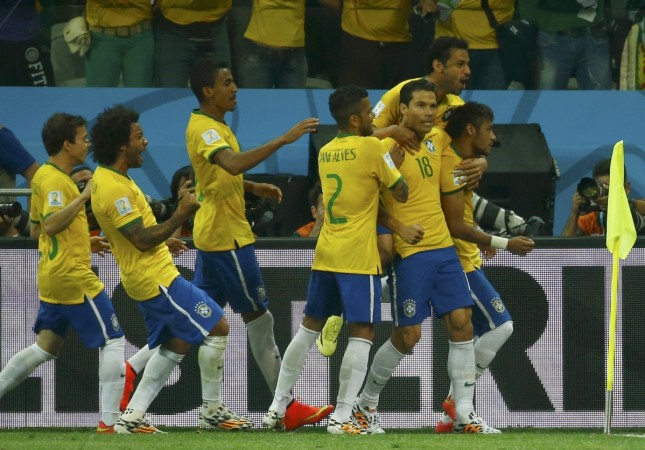 After the Goa government was caught in an embarrassing spot for its move to send six ministers on an ₹89-lakh junket to Brazil for the ongoing World Cup 2014 on taxpayers' expense, the state fisheries minister Avertano Furtado announced on Friday that the delegation would fund their own trip.
Furtado, along with sports minister Ramesh Tawadkar, power minister Milind Naik and MLAs Carlos Almeida, Glen Ticlo and Benjamin Silva, is part of a 10-day junket that will leave for Brazil in July, when the World Cup reaches its final stages.
"The six (of us) legislators met last evening. We decided to go to Brazil on our own without taking money from the state government. We don't want to spend money from the state treasury. We don't want to be a burden on the state coffers," Indian Express quoted Furtado.
The trip had been financially approved by Goa Chief Minister Manohar Parrikar himself, who had termed it a "study tour".
"The chief minister told us to go to Brazil and take a look," Silva was quoted as saying.
The harsh criticism towards the Goa government comes in the light of the fact that the state has been seeing a fiscal crisis after mining was banned in the state.
Congress, the Opposition party in the state had called the trip a 'wasteful expenditure'.
"The Goa government has been on a spree to loot the public exchequer. When the state is reeling under financial crisis, what is the need for such a junket?" PTI quoted Goa's Congress spokesman Durgadas Kamat.
Another major contention against the trip was that no sports professional was part of the delegation, given that the tour was for the football world cup. However, Parrikar defended his decision and said that the tour was an "an investment by the state government which has declared soccer as a state sport."
"The delegation, which has been approved by the state government, has MLAs who are actually footballers. The government considers this to be an investment," he explained.
Update: The Goa government on Friday cancelled the much-criticized junket of six ministers and MLAs to Brazil, reported news channels. Some of the members are expected to travel on their own but the government will not send a delegation.
This development came after state fisheries minister Furtado had said earlier in the day that the delegation would travel at their own expense, and not on taxpayers' money. The Goa government's decision to send a delegation to the World Cup on an ₹89lakh junket had been severely criticized.