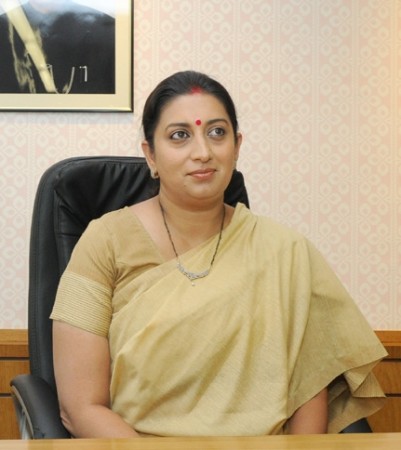 In a shocking turn of events, Union Human Resource Development (HRD) Minister Smriti Irani spotted a camera in the trial room of a popular clothing store in Goa.
The incident occurred on Friday, when Irani, who was holidaying in Goa with family, had gone shopping to the store in Candolim. She noticed a CCTV camera, which was pointed towards the changing room that she used.
Irani immediately raised an alarm and called BJP legislator Michael Lobo, who lodged a police complaint on Irani's behalf.
Lobo, who checked the footages after Irani's complaint, told The Hindu: "The trial room has wooden ventilators in the shape of cubes and squares for air conditioning through which the camera had a clear view inside."
"It was indeed recording the scene inside the trial room. We rolled the footage 20 minutes back... there was objectionable footage of people changing."
Following an FIR registered by Lobo, Calangute police found a CCTV camera installed outside the trial room, which had a clear view of the inside.
Candolim Police have arrested four staff members who were on duty and have sealed the store. Top executives of the apparel store will also be questioned on Saturday.
"Following the complaint registered by Lobo, we arrested four persons of the Fabindia outlet who were present on duty. We have seized the hard disk and CCTV footage and are scanning them. We are also trying to find out if they have kept any recording of the changing room," Hindustan Times quoted police inspector Nilesh Rane as saying.
A case has been registered under sections 509 (word, gesture or act intended to insult the modesty of a woman), 354 C (whoever watches or captures the image of a woman engaging in a private act in circumstances where she would usually have the expectation of not being observed either by the perpetrator or by any other person) and 34 (common intention) of the Indian Penal Code.