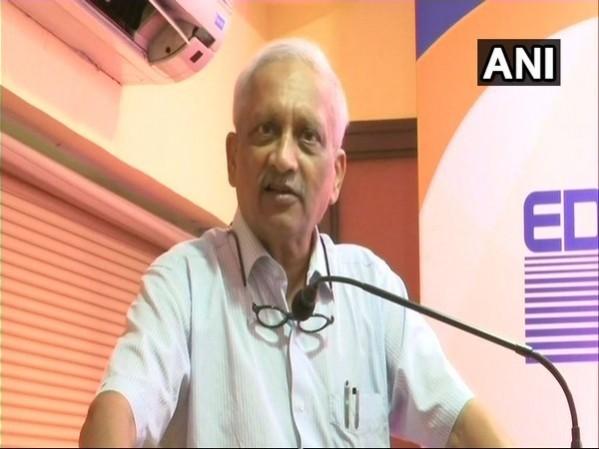 Goa Chief Minister Manohar Parrikar, who has been mostly away from public life since May, has released an audio message to extend Diwali greetings to people of the state.
In an audio greeting sponsored by Goa's Department of Information and Publicity and played on FM radio in the state, Parrikar said, "Namaskar. I wish all Goans Diwali greetings. I pray to God that the coming year be full of happiness and fulfilment. Diwali greetings to you all."
The Diwali greetings audio message is the first time that Parrikar, who is undergoing treatment for pancreatic cancer, tried to get in touch with people of the state after he delivered a video address at a meeting of party booth workers on May 13.
Additionally, he also greeted people on Twitter on the occasion of Dhanteras.
Last week, BJP-led Goa government released photographs of a frail-looking Parrikar attending the three meetings following an accusation from a senior Congress leader about the death of Goa CM.
The State Congress President Girish Chodankar questioned his absence from public appearance since his return from Delhi's All India Institute of Medical Sciences on October 14.
The bedridden Parrikar is under observation of doctors and para-medical staff at his residence, which has been converted into a sophisticated medical facility.
Parrikar frequent visits to hospitals in Goa, Mumbai, New York, and Delhi had led to a political turmoil in Goa.
In view of relentless demands from the opposition parties to know whether the Chief Minister was fit enough to govern, state Health Minister Vishwajit Rane last month admitted that the Chief Minister was suffering from pancreatic cancer.
Rane also slammed the Congress for playing politics over the ailing Chief Minister's health. The opposition earlier demanded that he step aside to focus on treatment. The Congress party, who alleged the breakdown of administration in the state, staked claim to form an alternative government in the state in September.
Congress with 16 MLAs is the largest party in the state assembly. BJP with 14 member formed government in the state with the support from MGP (3), GFP (3), Independents (3) and one non-attached NCP MLA.