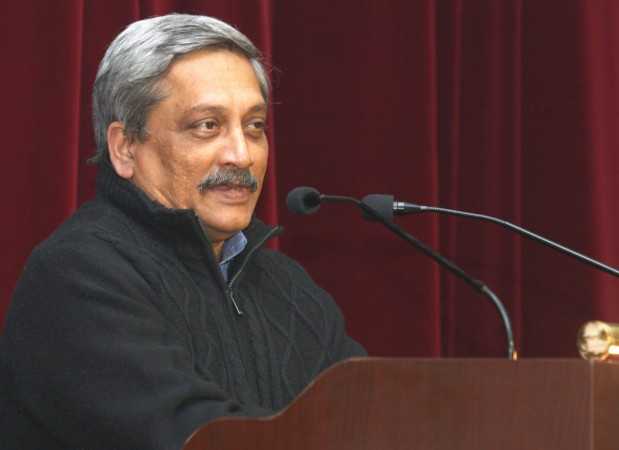 Goa Chief Minister Manohar Parrikar has reportedly been diagnosed with advanced pancreatic cancer, after which he flew Wednesday, March 7, to the United States.
"He is diagnosed with an advanced stage of cancer of the pancreas... He has already been administered one round of chemotherapy when he was admitted to Lilavati Hospital in Mumbai," sources from a government hospital in Goa, where Parrikar had been undergone treatment last month, were quoted as saying by the New Indian Express.
Parriakar has repeatedly been complaining of stomach ache since February. He was admitted to the Goa Medical College and Hospital (GMCH) for it.
He later traveled to Mumbai's Lilavati Hospital where the doctors said the pain was due to food poisoning.
Parrikar returned to Goa after his discharge from Mumbai's Lilavati hospital on February 22. Sources from his office then said he had was suffered a bout of dehydration and blood pressure. He was readmitted to the GMCH for treatment.
However, the doctors at Mumbai's Lilavati hospital reportedly confirmed earlier this week that Parrikar had pancreatic cancer, and advised him to fly to the US for further treatment.
Considering his health, Parrikar in a three-page letter to Goa Governor Mridula Sinha said the desired arrangements for disposal of governmental tasks had been made, ToI reported.
"No order shall be issued as regards any major or important matters concerning the portfolios of finance, home, personnel and general administration (all held by him) until the same are approved by me and my approval is duly communicated in the manner as I have directed the chief secretary," read the letter by Parrikar.
A meeting involving PWD Minister Sudin Dhavalikar was called on Wednesday. "We'll have a formal meeting once we get a copy of the order (detailing the temporary arrangement put in place for running the state affairs) issued by the CM to the governor. We discussed the mining issue, as it is the most important one," Dhavalikar had said.
Meanwhile, the BJP in Goa has been organizing "Mahamrutyunjay Japs" (religious chants meant to keep death at bay) and prayers in religious centers across the state for the past couple of weeks, Indian Express reported.
Many social media users wished Parrikar a quick recovery. Here are a few tweets:
HIGHLIGHTS

Goa CM Manohar Parrikar diagnosed with stage IV pancreatic cancer.Manohar Parrikar arrived in the US on Wednesday.BJP cadres have been organising "Mahamrutyunjay japs" for last couple of weeks. pic.twitter.com/kNUFeEXdx2

— Ritik Sharma (@RitikSh85729509) March 8, 2018
#Let's all pray 4 Goa C.M Manohar Parrikar moving 2 U.S.A tonight for medical treatment,He 2 is probably suffering from Pancreatic Cancer.He is one of the most precious gems of India,both as a politician and as a human being.

— RajendranathMehrotra (@mehrotra001) March 6, 2018