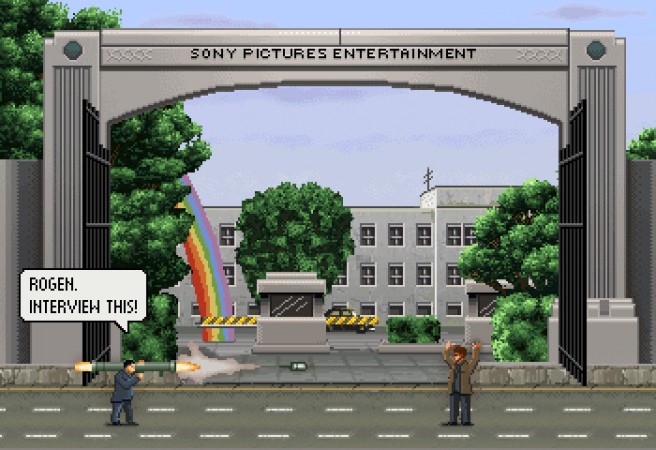 As the US comes out with bolder statements challenging the cyber attacks purportedly by North Korea, a spoof game 'Glorious Leader' has grabbed attention. Players will be able to take on the US as Kim Jong-un, the Supreme Leader of North Korea.
The game parodies the recent events in the US when hacker group, The Guardians of Peace, attacked Sony Pictures and disclosed scripts of upcoming movies, personal emails between employees and more. The group warned Sony against releasing the political comedy movie, "The Interview" that portrays Kim Jong-un negatively.
Glorious Leader is developed by Moneyhorse Games that has been launched on Kickstarter for funding. It is a 16-bit shooter game that allows players to battle the mighty American Army.
Kim Jong-un appears as a Chuck Norris fighting the battle single-handedly. The game features more than 7 levels, namely:
Mission 1: Pyongyang
Mission 2: Unicorn Forest
Mission 3: Paektu Mountain
Mission 4: Narwhal Sea
Mission 5: USS Bush
Mission 6: Fly the unfriendly skies
Mission 7: Ryugyong Hotel
Apart from the above ones, players will have bonus missions where they will be able to take on Sony and yes, even Seth Rogen.
These missions are hilarious, allowing players to battle with the Americans in various environments from forests to mountains to the sea. One of the missions allows players to tackle missiles from MQ-9 Reaper with the protagonist riding a mythological Unicorn. Players also need to protect the mystical Heaven Lake from the Americans who have come to steal its sacred water.
The game has a mix of action and comedy where players can ride on a fabled narwhal to attack an American flagship and can have a ride on a missile and attack other missiles and many more funny instances.
It also boasts of Power ups for the players like the Divine Powers. Different combination of this will enable players to create their own playing style. It offers two types of Divine Powers - Active and Passive.
The game also has a range of unique weapons to choose from for the unstoppable General. They include weapons like machine guns, Flame Thrower, Spreaderer, Bazooka and WMD. Players will also have Epic Boss battles.
Other features include gamepad support, unlockable characters and more. There will be three options in difficulty.
Interested can back the project and developers are aiming for $55,000. Presently it has 186 backers with $5,087.