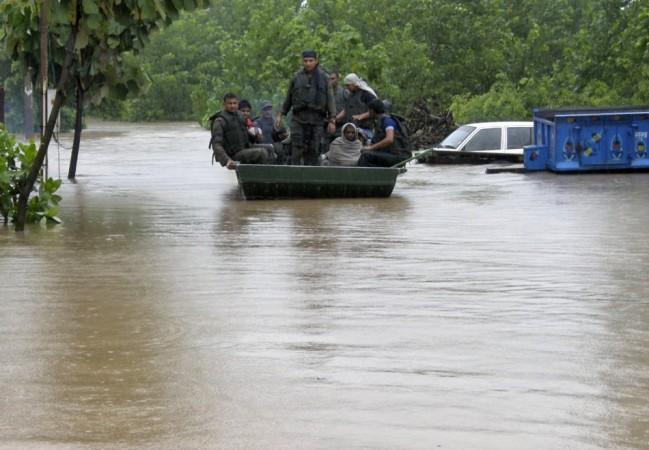 Global warming may increase the daily variability of India's monsoon rainfall in the future, finds a new study.
The findings have been revealed at a time when floods have killed more than 550 people and destroyed unaccounted properties in North India.
Scientists at the Potsdam Institute for Climate Impact Research (PIK) in Germany used a comprehensive set of 20 state-of-the-art climate models to predict the extent of weather changes in the wake of global warming.
The models consistently show that future global warming might increase the daily variability of Indian monsoon rainfall. According to Anders Levermann, one of the study's authors and co-chair of PIK's research domain sustainable solutions, the increase in daily variability of monsoon rainfall might cause a significant impact on the people. For instance, millions of poor farmers and the country's agricultural productivity could be at risk if the day-to-day rainfall becomes more variable in the future.
Even if seasonal mean precipitation remains unchanged, there could be substantial impacts on the people who might not be able to afford additional loss. "Focusing on the average is not always useful. If rainfall comes in a spell and is followed by a drought, this can be devastating even if the average is normal. This requires the right kind of adaptation measures that account for this variability - such as intelligent insurance schemes, for example," Levermann pointed out in a statement.
Using computer simulations, scientists have found that the daily rainfall variability would change by 13 to 50 percent if the emission of greenhouse gases continues without any reduction in its intensity. The study also pointed out that even if global warming is limited below the internationally-accepted threshold of 2 degrees celsius, there would still be a change in daily variability by 8 to 24 percent above the pre-industrial level.
"So limiting global warming is key to reduce day-to-day monsoon variability, adaptation cannot replace but rather complement it," said Levermann.
The details of the findings are published online in the journal Geophysical Research Letters.
Coincidentally, heavy rains have triggered flash floods and landslides across north India, causing catastrophic damages. Uttarakhand is the worst hit of all states where cloudbursts, floods and landslides have left a trail of destruction. More than 550 civilians have been found dead and at least 30,000 to 32,000 are still stranded including a large number of pilgrims from the Himalayan shrines of Kedarnath, Badrinath, Gangotri and Yamunotri.
Rescue operations are underway. Unfortunately, the India Meteorological Department has warned of more rainfall in the flood-affected states of Uttarakhand, Himachal Pradesh, Uttar Pradesh and central India from Monday (24 June). Rescue teams have been asked to go full throttle for the next two days before the rain begins.