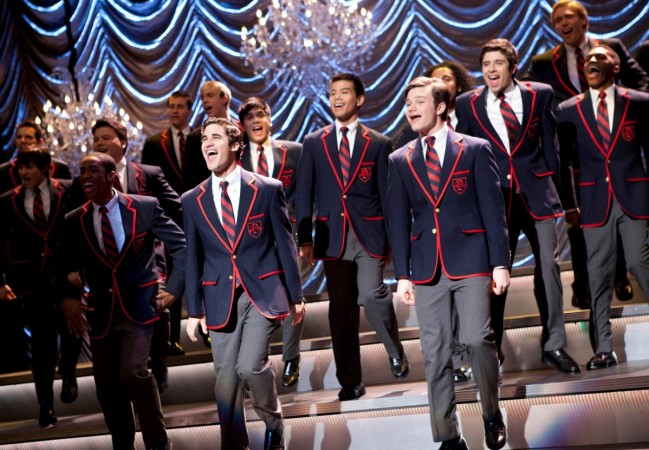 "Glee" will be back on Fox with season 6 episode 11 titled "We Built This Glee Club" on Friday, 13 March, at 9pm and viewers will get to watch a sectional between New Directions and Vocal Adrenaline for one last time.
This sectional will be very special for the "gleeks" because it not just a competition between two groups but its a musical battle between Sue Sylvester (Jane Lynch) and the Glee Club.
In episode 10 titled "The Rise And Fall Of Sue Sylvester", William McKinley High School authorities fired Sylvester after Becky Jackson (Lauren Potter) made a move against her. In the meantime, New Directions and Warblers teamed up to form a unified group.
So the upcoming episode of "Glee" season 6 will focus on Sylvester's move to win the sectional and the coach seems to be very confident about her team.
"This is Vocal Adrenaline out there, my team. I'm coaching them, trying to sabotage the glee club 'cause I'm no longer principal because I was fired for doing something kind of nasty. Supposedly I choreographed it so I'm sure it's quite good and quite spectacular and acrobatic," she says in an exclusive trailer released by Entertainment Tonight.
Even the one-minute, 24-second-long video clip shows a sure win for Sylvester's team as everyone, including Will Schuester (Matthew Morrison), is seen surprised to watch the on-stage performance of Vocal Adrenaline. But no one can predict the judgement as a dog will decide the winner.
Although the title of episode 11, "We Built This Glee Club", indicates a victory for New Directions, the sneak peek video shows Vocal Adrenaline as the winner.
So the gleeks will have to watch "Glee" to find out the real winner of sectional. The show will be live streamed here.