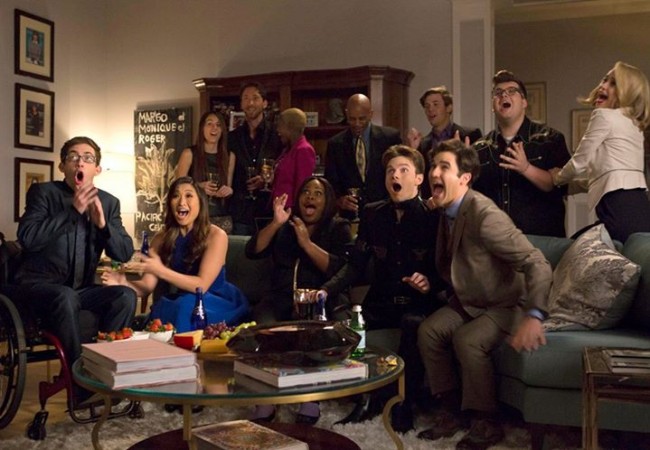 "Gleeks" will get a final glimpse of their favourite characters in "Glee" during the two-part finale of season 6 scheduled to air on Fox this Friday, 20 March, at 8pm.
As per the official synopsis of musical comedy series, first part of the two-hour finale titled "2009" will go back in time to find out why the original members of New Directions initially signed up for glee club. Whereas, the second sequel will revolve around how the character's lives have progressed five years down the road.
Meanwhile, several spoilers have indicated that upcoming episodes of "Glee" season 6 will be packed with several surprising elements.
"They tie up a lot of great storylines and you get to see these people in a new light and follow their journey. These characters have gone through a lot and I think there's a good payoff at the end," Kevin McHale told Access Hollywood Live
The celeb also revealed that the show will pay tribute to late Cory Monteith, who died in 2013. "I think [Finn] is always remembered and especially at a time like this at the very end, there will definitely be some sort of mention of him. He'll be involved in some way," said McHale.
A sneak peek image of the finale shows surprised and shocked cast members celebrating their success but Rachel Berry (Lea Michele) is not seen in the photo. According to TV Line, Berry will introduce her new partner to teammates.
Meanwhile, the report also stated that "Gleeks" will find one of the characters pregnant towards the end of the show. However, they will have to tune in to Fox at 8pm to know more about their favourite characters.