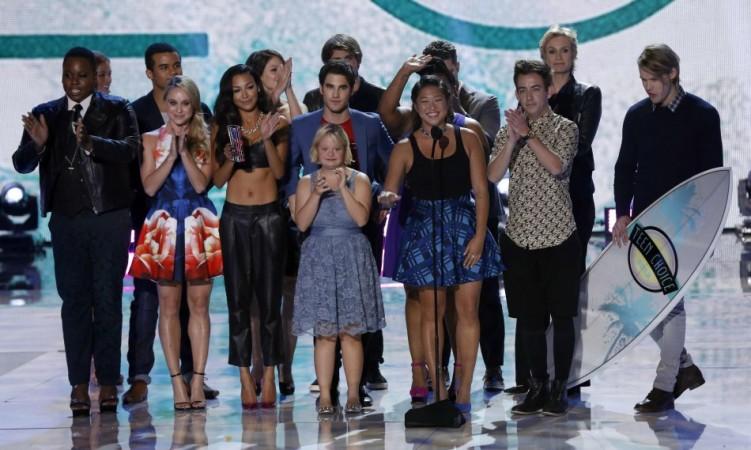 "Glee," Fox's musical drama, returns for its winter premiere on Tuesday with a brand new episode titled, "Frenemies," where viewers will get to see some of their favorite characters turning into each other's enemies.
Rachel fights with Santana when she auditions and gets the role of Rachel's understudy in Broadway's Funny Girl, and at one point during their argument, Rachel reportedly becomes violent and slaps Santana.
Back at McKinley High too, tension is high between former couple Artie and Tina, who are competing to be class valedictorians.
The relationship between Kurt and bandmate Elliott is also set to undergo a transformation and rumor mills are churning with speculation that Kurt will cheat on his fiancé, Blaine, with Elliott.
The episode has the duo dancing and singing in a guitar store, where Kurt even flaunts his moves by making use of a stripper pole. Kurt and Elliott will be singing The Darkness' "I Believe in a Thing Called Love" when the former "American Idol" winner leans over and kisses Kurt.
The lyrics of the song have Glee fans worried as it talks about physical intimacy.
"I wanna kiss you every minute, every hour, every day / You got me in a spin but everythin' is A.OK! / Touching you, touching me / touching you, god you're touching me."
Speaking about their relationship, Chris Colfer said, according to MTV: "Elliott is insanely talented and Kurt becomes very self-conscious about it. He's afraid that Elliott is gonna be taking away some of the spotlight."
Speculations are rife that a romance might be brewing between Kurt and Elliott, as this is not the first time the couple have indulged in some sort of public display of affection. The episode shows Elliott kissing Kurt on the cheek when he is getting ready to snap a selfie.
Last month, Fox confirmed that "Glee" would be moving to New York fulltime, with some members leaving the show.
But they will be returning when Glee celebrates its 100th episode with a two-part show. Reports have it that most of the past members will be returning to McKinley High to celebrate what the glee club had done to secure their future.
The 101th episode will be the last to showcase Lima, Ohio, where the "New Directions" originated.
"We are gonna take some time just in NY. See where that takes us," executive producer Brad Falchuk told Entertainment Weekly. "We're really excited about adult stories out of high school when nobody gives a hoot about you. How does that feel to suddenly be nobody from being the biggest hero?"
It is believed that Rachel, Santana and Kurt will be joined in New York by Artie, Blaine and Sam. Although nothing is yet known about the characters of Jane Lynch and Matthew Morrison, show executives had earlier stated that they will remain part of the show.
Amber Riley, who plays Mercedes on the show, will also appear in a few episodes.