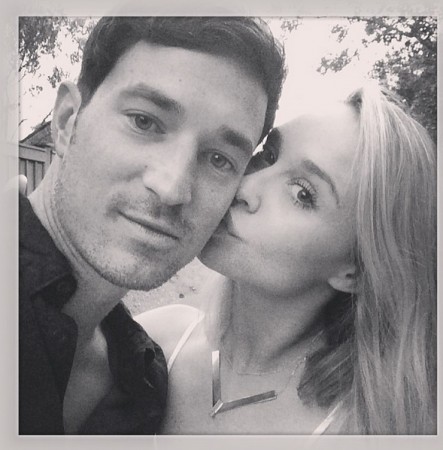 "Glee" actress Becca Tobin's boyfriend, Matt Bendik, was found dead in his Philadelphia hotel room on Thursday, just a few days before the first death anniversary of Cory Monteith, who passed away in a similar situation.
Bendik, a 31-year-old night-club owner, was in Philadelphia on business, and he was found dead by a hotel maid.
Although the circumstances surrounding his death are suspicious, law enforcement officers do not suspect any foul play. Suicide has been ruled out as neither drugs nor drug paraphernalia were found inside the hotel room. There were no weapons as well, reports said.
"On July 10, 2014, at approximately 1:05 pm, police responded to Hotel Monaco and housekeeping discovered a white male, 31 years of age, at the location," police said in a statement, according to FOX News. "Medics pronounced him dead at 1:17 pm, and the cause is undetermined by medical examiners."
Bendik was last seen by a manager at a club in Philadelphia just before Wednesday midnight, and shortly before that he posted a picture of Tobin on his Instagram account calling her his #WCW or woman crush Wednesday, TMZ reported.
Tobin, who plays Kitty on the musical drama, was not in town at the time of her boyfriend's death.
Bendik was the owner of a number of clubs across the country, including West Hollywood's DBA nightclub in Los Angeles. The club is one of the favourite hangouts of a number of celebrities such as Chris Brown and Leonardo DiCaprio, and the outlet posted a tribute to Bendik on the notice board outside the club on Thursday night.
"We love you Matt," the message read.
The tragic death has many fans of the show wondering if "Glee" is cursed, especially as Monteith's first death anniversary is just around the corner.
Monteith was found dead on July 13 in a hotel room in Vancouver, Canada.
Check out some of the messages below:
is 'glee' cursed or something/... "Glee" star Becca Tobin's boyfiend Matt Bendik found dead in hotel http://t.co/IU4AmiGovV

— billiegirltoo (@billiegirltoo) July 11, 2014
July is like a curse to Glee cast... Last year Cory and now Becca's boyfriend in a similar situation... — Stay Strong Becca ღ (@msdarasantos) July 11, 2014
Dear glee cast and related Be far away from hotels during July. there is a curse. Thank you

— Rita ♕ (@moncheleschild) July 11, 2014
July is honestly just a curse for the Glee fam — αbbey (@Mrs_Monteith55) July 11, 2014