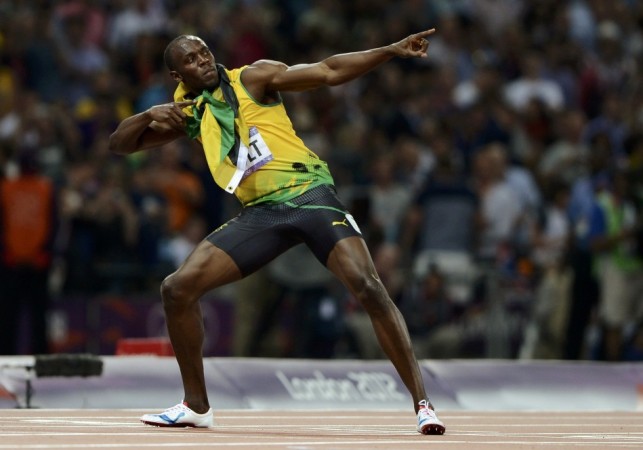 Ace sprinter Usain Bolt is fit enough to participate in the 2014 Commonwealth Games, which commences on Wednesday. But the Jamaican will be seen in the 4X100 sprint relay, not the 100 metre race.
The six-time Olympic gold medallist has staged a recovery after a foot operation and hamstring injury. The period of recovery had been a difficult one and Bolt had been readying himself for what lay ahead of him.
"I went to see my doctor and he said the best thing to do was to actually get the surgery done because it would bother me over my career, so it was best to get it done now, so I just did it because I considered this my off season," Reuters quoted him.
"It's been rough, but I've been through it a couple times so I know what it takes to get back so I'm just pushing on and working towards what's necessary for this season."
The 27-year-old, who could not train for nine weeks after his left foot was operated upon, revealed that he was back in his less-than 10-second form. This was possible because he took part in practice two times a day as preparations for Glasgow.
There is the customary morning practice but if and when required this could see changes, his coach Glen Miller pointed out.
"We usually train in the morning when it is necessary, but it's not the routine," Mills said. Bolt had to make up for lost ground as a result of the injuries cutting into his practice time. This made practice more than once a day essential, Mills was of the opinion.
"Usain has lost quite a significant amount of training time and in his desire to at least run a couple races in the summer, in order to get in the sufficient amount of sessions, we have to double up training morning and evening," the report quoted the coach.
Bolt will not be part of the 100 metre race in Glasgow he was absent during the 100 metre trials. Bolt said that the prime focus was getting back on his feet and hitting the race track, and added that he dearly wanted to participate in the Commonwealth Games.
"I really wanted to run at the Commonwealths Games over the years. I'm going there for my fans and I'm going there to show that I'm getting back into shape and they can look for great things now and for the years to come."
Bolt's presence will be a boost for the Commonwealth Games, which has already seen British 100 metres champion Dwain Chambers and heptathlete Morgan Lake pull out.