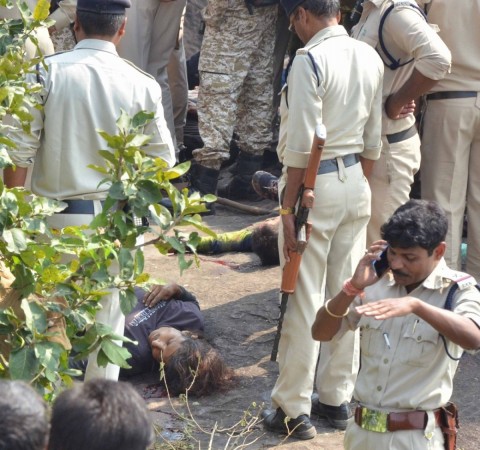 Pointing out the lapses in Bhopal Central Prison, a former jail official said that he had written about them to the Madhya Pradesh government but got no response.
The lapses in the prison security are glaring in the wake of eight SIMI suspects' jailbreak on Sunday and subsequent death in an encounter on Monday, which has also been questioned.
The suspects allegedly used wooden logs and bed sheets to scale a 35-foot wall. They also formed human pyramids to scale a 10-foot wall after getting out of their cells.
"That wall is joined by a 20-foot wall that serves to separate two wards of the prison. Some of them first climbed the short wall using their ladders before hauling up their associates," deputy inspector general of prisons M.R. Patel told The Hindu.
Three guards who stood just 50 metres from where the escapees landed said that they had no instructions to patrol the grounds.
The suspected SIMI operatives were kept in separate cells and came under the "high-risk" category.
"These high-risk prisoners get to interact for very little time, mainly while bathing or washing clothes. The men must have planned their escape during these meets," a jail official told the Hindu.
Speaking about the security issues in the jail, former Madhya Pradesh IG (Prisons), G K Agarwal, told the Indian Express that he had written to state chief secretary, Anthony Desa, on June 26, 2014, and marked copies to National Security Advisor Ajit Doval and the Intelligence Bureau. However, he did not get a response.
"At present, SIMI activists from other prisons have been kept in the Bhopal Central Jail. But given the structure of the jail building, its vulnerable points, illogical security arrangement and deplorable condition of staff, it would be wrong to presume that everything is OK if no major incident takes place. God is helping but it would a mistake to presume that he will continue to offer help," he had written in his letter after the Khandwa jailbreak in 2013, also involving SIMI operatives. There are 3,400 inmates in a jail with capacity of 2,650.