Gorkha Janmukti Morcha (GJM), a political party campaigning for the creation of the Gorkhaland region in West Bengal, launched a three-day strike in Darjeeling on Monday morning.
GJM chief Bimal Gurung had announced the strike on micro-blogging site Twitter on Saturday. "A 72 hour strike will be observed from 29th July to start our final battle for Gorkhaland. Are you with me?"
The three-day strike is to re-ignite the 107-year-old demand for a separate statehood.
Markets remained shut and traffic was nil on the streets of the hill station following the announcement of the strike.
GJM supporters burnt three vehicles on the National Highway 31 that connects West Bengal and Sikkim. About 50 supporters have been arrested until now, for trying to shut down the hill station known for its tea and tourism, sourced told IANS.
Nearly 2000 domestic tourists had left Darjeeling yesterday due to the pre-announcement of a bandh, while a few foreigners are still in town. The town remained deserted with schools, private offices closed.
Few shops opened early in the morning, but due to thousands of GJM supporters who started protesting, they were closed down again by 7:30 am.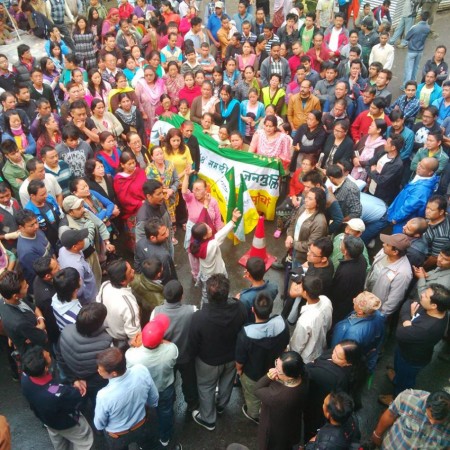 Many GJM supporters launched a protest at Chowkbazar, Jorbungalow, Mirik and Sukhiapokhri with party flags. They also blocked roads in Kalimpong and Kurseong subdivisions, PTI reported.
Superintendent of Police Kunal Agarwal said strict action would be taken against those who try to vandalise government property. He also ascertained that NH31 will remain open to commuters.
The strike is the first in town ever since the tripartite pact to set up a Gorkhaland Territorial Administration (GTA) was signed between the GJM, West Bengal and central government on 18 July, 2011.
The GTA, which is run by the GJM since the elections in July last year, is a semi-autonomous body armed with more powers than the Darjeeling Gorkha Hill Council of the late 1980s. GTA head Gurung is expected to quit the administration within the next three days.
"The GTA is a total failure and that time has come me to resign from GTA. I will soon give my resignation to the Governor of West Bengal. People must gear up up for more agitation for Gorkhaland," he posted on Facebook.
Interestingly, this fresh phase of agitation by the GJM corresponds with the central government's speculated division of Andhra Pradesh, to form a separate state of Telangana in the deccan.
Gurung has suddenly become active on social mediums of Facebook and Twitter to re-instil the movement for a separate state. He joined Twitter on Saturday and is expected to join YouTube soon.