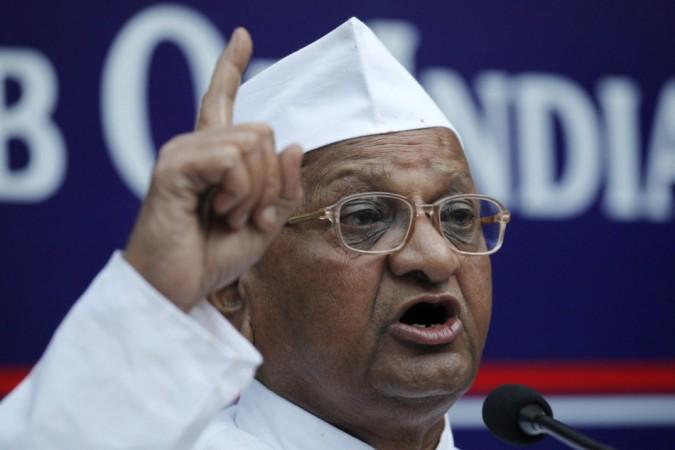 Social activist and anti corruption leader Anna Hazare has criticized the government for nominating Sachin Tendulkar to the Rajya Sabha, instead of bestowing him with a Bharat Ratna.
After some section of the political and social classes reacted against Sachin's nomination as "suspect move" and "dirty politics" of Congress-led United Progressive Alliance (UPA), the Gandhian too has come out against the government's move to nominate the cricketer.
"Their (Government) intention is not clear behind this (electing Sachin Tendulkar for Rajya Sabha). If they wanted to honour him, then they could have honoured him with Bharat Ratna," CNN IBN Live quoted Anna as saying.
Expressing his opinion, the 73-year-old anti-corruption leader added, "I feel bad because we are demanding that Sachin should have been facilitated from Bharat Ratna."
Earlier, at a press conference, Yoga Guru Baba Ramdev too opposed the move and called it as a ploy to distract public attention.
"Congress, which is a sinking ship, denied him (Tendulkar) the Bharat Ratna but is nominating him to the Rajya Sabha as a tactic to distract the media and people from issues such as black money and corruption," he told media persons.
Several other leaders have also criticized Sachin's nomination. Shiv Sena Chief Bal Thackeray said, "It is Congress's dirtiest play...the real Dirty Picture is this."
He also warned Sachin in an editorial in party mouthpiece, Saamna, to restrict himself to cricket instead of making political statements.
Some other politicians and analysts believe that if Sachin accepts the Rajya Sabha nomination, it may affect his standing as a man who has been trying to avoid any affiliation with political parties, reports NDTV.
"It is Sachin's and the Congress' personal matter. But I feel more than a seat, he should be given a Bharat Ratna," NDTV quoted BJP leader Gopinath Munde as saying.
Meanwhile, an advocate has moved the Madras High Court seeking to stay the cricketer from taking oath in the Parliament, citing a pending case against him. The petition will be heard on Thursday.