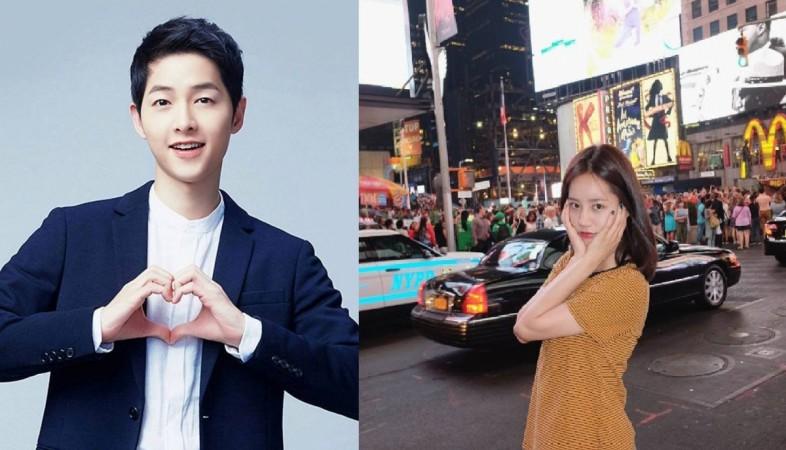 Girl's Day member Lee Hye-ri a.k.a Hyeri seems pretty happy with her husband and actor Park Bo Gum of "Moonlight Drawn By Clouds" fame. But speculations are doing the rounds on her secret relationship with "Descendants of the Sun" actor Song Joong Ki.
While attending the 11th annual Seoul Drama Awards, the 22-year-old Kpop icon shared her thoughts about the 30-year-old actor and said, "I've met him countless times through broadcasts. I might be the one-sided in saying its good to see him again, but I'm already looking forward to it."
The "Reply 1988" actress' words sparked several speculations that she is in a secret relationship with Joong Ki and apparently plans to end her marriage with the 23-year-old "Hello Monster" actor.
However, the "Entertainer" actress, who attended the event along with Kang Min Hyuk, Shin Min Ah, Jasper Liu, Hing Jong Hyun and other popular celebrities, is yet to respond to the speculations.
Meanwhile, "Sungkyunkwan Scandal" actor, who won the best actor award for his role in "Descendants of the Sun," spoke about sharing screen space with "Moonlight Drawn By Clouds" star.
"It would be great to play brothers some time, or even two guys that fight over the same girl. Regardless, I would like to work with [Park Bo Gum] in a project," the actor said.
Check out the complete winners list of Seoul Drama Awards 2016 below:
Grand Prize
The Night Manager
Golden Bird Prize
TV Movie: Don't Leave Me
Mini – Series: Deutschland 83
Serial Drama: The Roots of Throne
Comedy: Baskets
Silver Bird Prize
TV Movie: Sabena Hijacking – My Version
Mini – Series: Mr. Robot
Serial Drama: A Scholar Dream of Woman
Individual Category
Best Director: Susanne Bier
Best Screenwriter: Eva Spreitzhofer
Best Actor: Azat Seitmetov
Best Actress: Samia Sassi
Outstanding Korean Drama Prize
Excellent Korean Drama: Descendants of the Sun
Outstanding Korean Drama: The Flower in Prison
Outstanding Korean Actor: Song Joong Ki
Outstanding Korean Actress: Shin Min-A
Outstanding Korean Drama OST: Gummy
Speacial Jury Prize
Journey
Endless Love
Dramaworld
Asian Star Prize
Fujii Mina: Japan
Anthony Wong: Hong Kong
Yi Hao Liu: Taiwan
Nha Phuaong Tran: Vietnam
Rebecca Lim: Singapore
Deniss Trillo: Philippines