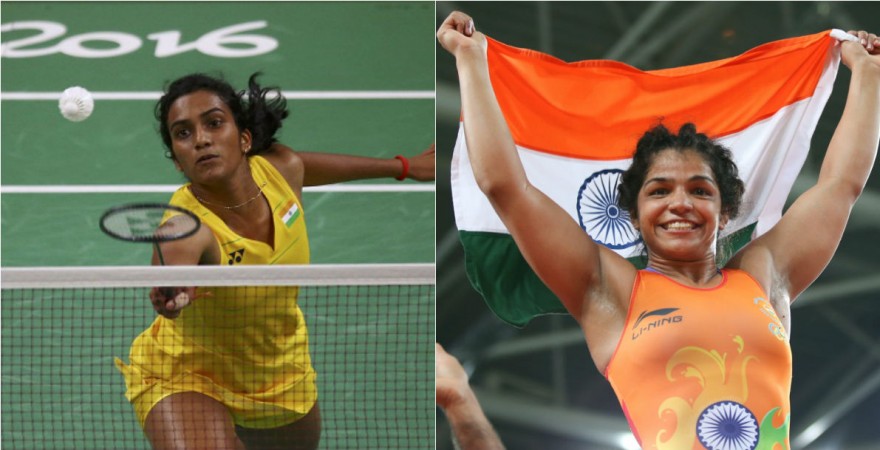 Indian badminton player PV Sindhu reached the final of the women's singles event at the Rio Olympics on Thursday, Aug. 18. Indians all over the world are praising the 21-year-old for making India proud with her historic performance at the international multi-sport event held in Rio de Janeiro, Brazil.
Sindhu entered the finals after defeating Japan's Nozomi Okuhara and will be competing against Spaniard and world number one Carolina Marin on Friday at 11 a.m. local time (7.30 p.m. IST, 4 p.m. CET). Even if she is placed on the first or second spot, Sindhu will be the second Indian to bring a medal to the country this year after Sakshi Malik, who won the bronze medal for wrestling at the Rio Olympics. The 23-year-old is the first woman wrestler from India to bag an Olympic medal in the sport.
However, it must be noted that out of the 117 athletes who have been sent from India to the Rio Olympics, only two women could enter the final round of their respective sports. While Sakshi bagged the bronze medal, Sindhu is sure to either win gold or silver medal and gymnast Dipa Karmakar attained the 4th position in Women's Vault Gymnastics event with a score of 15.066.
Many celebrities have been congratulating Sakshi and Sindhu for making the country proud. Indian President Pranab Mukherjee, Prime Minister Narendra Modi, other minister and politicians like Arvind Kejriwal, Rahul Gandhi, Rajnath Singh, Harsh Vardhan, M Venkaiah Naidu, Pinarayi Vijayan, Oommen Chandy and celebs incluidng, Amitabh Bachchan, Mammootty, SS Rajamouli, Jayasurya, Samantha Ruth Prabhu, Shilpa Shetty and Radikaa Sarathkumar among many others have been lauding the young girls for achieving historic victories.
Check out the congratulatory messages here:
President of India
Hearty congratulations #PVSindhu, well played, all the best for the finals
Sachin Tendulkar
Yeaaahh!! @Pvsindhu1 through to the #badminton finals with such an amazing performance!! Congratulations! Superb smashes!
Amitabh Bachchan
T 2352 - YEEEAAAAHHHHHH !! COME ON INDIA .. PV Sindhu in FINALS of Womens Badminbton at #Rio2016 .. another women from India ! HISTORIC. T 2352 - Never ever underestimate power of female gender ! #PVSindhu you have destroyed so many 'naysayers' .. you are the PRIDE of INDIA !
SS Rajamouli
PV SINDHU!!!! What an aggression... The way she dominated her opponent is something we longed to see in Indian sports. You made India proud, you made Telugu's proud. One more shot to glory.. Keep up the aggression. 1.3 billion hearts beat for you.
Dr. Harsh Vardhan
All the best #PVSindhu for finals. No Pressure, just play your own game. We know that Gold is yours. #SindhuForGold
Subhashini
One should be happy that a girl from Andhra took up badminton and not engineering. #PVSindhu #proud
Karan Johar
#PVsindhu ....more power to girl power!!!! #Rio2016
Priyanka Chopra
#PVSindhu & #AditiAshok were amazing at the Rio Olympics . Congratulations and yaaay - #GoINDIA #GirlPower
Madhuri Dixit-Nene
Another medal assured #Rio2016. Congrats #PVSindhu ...Go for gold
Pinarayi Vijayan
Congrats ! P V Sindhu for entry into finals. Now ‪#‎GoForGold‬ All the best !
Mammootty ‏
Congratulations and best wishes PV Sindhu
Rajnath Singh
PV Sindhu's performance today has kindled the hopes for a Gold medal to #IND. Congratulations to her on reaching the Olympic final. The people of India should feel proud of their daughters. First Sakshi Malik and now PV Sindhu has made history in #Rio2016
Nirmala Sitharaman
Congratulations, #PVSindhu on entering the finals in #badmintonRio2016 . Go for gold! Praise-worthy coach @pullelagopicha1 .Our prayers.
M Venkaiah Naidu
#PVSindhu You played a super game ..HEARTY CONGRATULATIONS !! .you made us all very proud ! Good Luck for finals
Vijender Singh
Bhaiyo es chori ne bhe lath gaad diya proud of #PVSindhu and wish u all the best for finale hope u come up wth gold
Gauahar Khan
Sooooooooo proud... Of #PVSindhu I have followed all her matches, missed the most important one☹️... But soooooo proud..#fan..
Arvind Kejriwal
Congratulations PVSindhu. Whole nation is proud of u.
Rahul Gandhi
Congratulations #PVSindhu!What a fantastic win to take India to the badminton finals at #Rio2016! All the best!
Sitaram Yechury
Congratulations PV Sindhu. Superb display of focus and tenacity. All the best for the finals. #Rio
Radikaa Sarathkumar ‏
#PVSindhu yes girl, loved ur grit, well done , congrats
Esha Gupta
Loving how our girls are putting us on the world map.. #girlpower #PVSindhu goodluck
Yogendra Yadav
Congratulations #pvsindhu Women are saviour of national honour!
Aditi Rao Hydari
Yay! #PVSindhu... #GirlPower Big luck for the finals! #Rio2016 #Olympics2016 the girls are shining and how #pride #india
Samantha Ruth Prabhu
And that's how it's done ... Damnnnnnn!!!! #shemadeofsteel #PVSindhu #Rio2016
Vishal Dadlani
We're giving Ms. De too much importance. #Sakshi, #PVSindhu have already replied, far better than we can. Talk about winners, not losers!
Leander Paes
And she's done it..Well done #PVSindhu ..Go for Gold! All of India and your @OGQ_India family is behind you!!!! #Olympics
Anushka Sharma
What a day it's been!First #SakshiMalik & now #PVSindhu in finalsHere comes another medal.Silver haath mein Gold nazar mein.All d best
Shilpa Shetty
Oh no missed this one.. ShootBut happy with the result. #PVSindhu heard u were fab. All hopes on you#Rio2016
Vivek Ranjit
In a country with such utter disrespect to women and a prime minister who wanted everyone to plant trees to fund for the girl child's wedding, these women have achieved the impossible (given the circumstances and the existing conditions of sports in the country) and made everyone proud and beaming with joy. That says everything about the women of our country! (But then there are scum like Shobhaa De too, who claim to be women).
Sachin Ramdas
For a country that does not honour women , it needed two ladies to save the grace at Olympics.
Parvathy Nair
So, so proud of the tremendous achievements of India's daughters - PV Sindhu and Sakshi Malik. You go girls! #girlpower #rio2016 #teamindia
Rony David Raj
Carolin ....P.V.SINDHU is waiting for u.... Be on time .....congratulating pullela gopichand for bringing all these talents under one roof .....We salute u sir .... No one had mentioned any thing about srikant ...what a match vs Lindan. JAIHIND
-