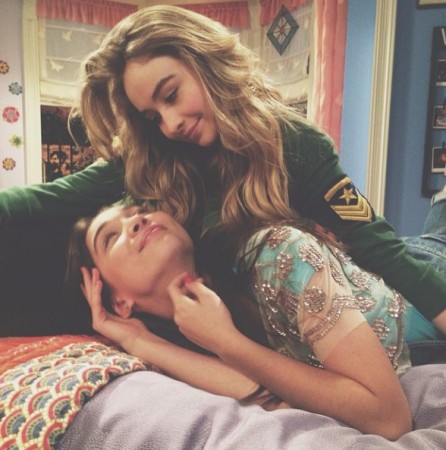 Fans of "Girl Meets World" have been divided by the Rucas or Lucaya argument for a while, but now it is rumoured that no boy may be able to break up life-long friends Riley (Rowan Blanchard) and Maya (Sabrina Carpenter), however dreamy he may be. The writers may be taking a page from the numerous RIlaya fan-fiction stories and creating history by introducing the first lesbian couple on Disney Channel.
As most fans know, Rowan Blanchard is an outspoken feminist and LGBT rights activist. She had even come out as queer recently and said she would love to see an LGBT character on the show. It would be groundbreaking if the LGBT character in "Girl Meets World" turned out to be the titular girl.
There is abundant material on fan-fiction sites that "ship" Maya and Riley, but so far it had seemed unlikely the writers were going in that direction. The girls definitely have a great connection, but each also has an attraction towards the male lead Lucas (Peyton Meyer).
It is the name of Season 3 Episode 7 that catalysed the speculation that Maya may be gay or bisexual. "Girl Meets True Maya" was reportedly called "She Don't Like Me" previously, and that gave way to discussion among fans that Maya finally reveals she has romantic feelings towards her best friend.
The following tweet by the "Girl Meets World" writers revealed the episode names of "Girl Meets World" Season 3:
Girl Meets: High School 1&2/Jexica/Permanent Record Then - Triangle/Upstate/True Maya/Ski Lodge 1&2 Then - I expect you'll respond.

â€" Girl Meets Writers (@GMWWriters) February 28, 2016
To this, a fan responded:
@otraproud pic.twitter.com/T7gfXz2NRQ â€" ️ (@rowanobsession) February 29, 2016
Although this is not official confirmation of a Rilaya future, it does open doors for conversation. The truth will be revealed when the new season premieres on Disney Channel in the spring of 2016.