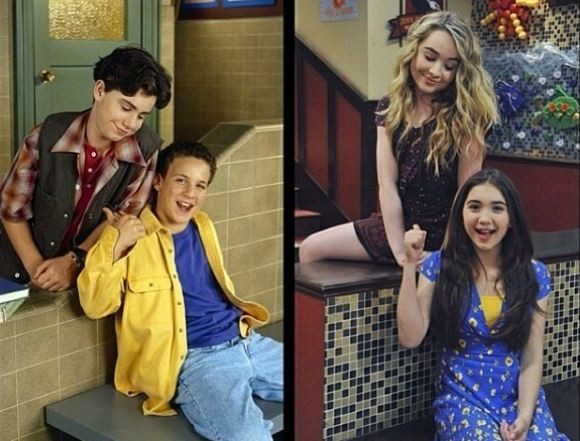 "Girl Meets World" is one of the most popular shows on Disney Channel that not only attracts a wide range of teens and tweens, but also quite a few adults who are nostalgic about it 90s predecessor "Boy Meets World." This is why most people were shocked to see the Twitter trend #SAVEGIRLMEETS WORLD on Wednesday, July 20.
Most people had assumed that Disney has cancelled the iconic show and were quick to express their anger on social media. This made for many touching appeals and angry demands to Disney Channel. A fan even went as far as to start a Change petition demanding a renewal for Season 4 of "Girl Meets World."
However, they needn't have worried because the Twitter trend started as a reaction to another hashtag that demanded the cancellation of the show. Now, what cause the people to be so mad as to demand the removal of "Girl Meets World?" Fans of the show were apparently miffed that their OTP on the show had been split up by the showrunners.
As fans saw in the previously aired Season 3 episode 7 "Girl Meets True Maya," the Lukaya ship is more or less sunk. Maya (Sabrina Carpenter) realised that she may have liked Luke (Peyton Meyer) only because she started becoming too much like her best friend Riley (Rowan Blanchaed), who likes Lucas as well. This has made many Lucaya shippers angry and expressed this anger by calling for the cancellation of the show.
Although Disney Channel is yet to renew "Girl Meets World" for Season 4, it is very unlikely that they would cancel it. Moreover, the show is only in the initial stages of Season 3 and there is plenty of time to renew it before the finale or even after it.
So, fans really need not worry about the future of "Girl Meets World." You can, however, check out the reaction of some of the biggest "GMW" fans on hearing about the possibility of the cancellation:
WHAT IS WRONG WITH DISNEY #SAVEGIRLMEETSWORLD pic.twitter.com/ycf3pWgGDt

— Asa (@asanloves1d5sos) July 20, 2016
It baffles me how they can think about cancelling gmw but keep dog with a blog #SAVEGIRLMEETSWORLD pic.twitter.com/wI15V1hjRt — jess (@smokessabrina) July 20, 2016
tell me another disney show that teaches about feminism #SAVEGIRLMEETSWORLD pic.twitter.com/MDVWDuWNBn

— Panda,,☻ (@pegacornpower) July 20, 2016
Our only hope of good television, funny jokes, and interesting plot twists, might be canceled?! #SAVEGIRLMEETSWORLD pic.twitter.com/EM6MUtaoIg — Jessy Chi (@jojilere) July 20, 2016
THIS IS THE BEST SHOW ON DISNEY! WHY DOES THIS HAVE TO HAPPEN?!#SAVEGIRLMEETSWORLD pic.twitter.com/YtypRALIZj

— Taylor Rusch (@Infinity_4678) July 20, 2016