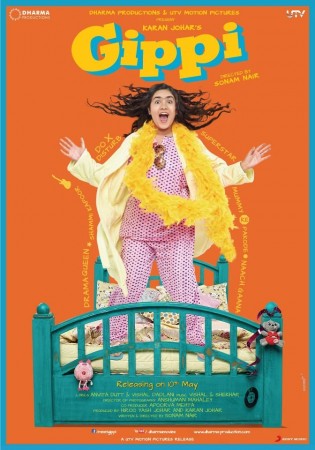 Dharma Production's bubbly adolescent film "Gippi" about a spirited teenager was released this Friday (10 May).
The film stars newcomers Riya Vij, Jayati Modi, Arbaaz Kadwani, Taaha Shah, and well-known actress Divya Dutta.
The film is about a confused plumpy teenager Gippi, played by 14-year-old Riya Vij, who faces the ordeal of trying to cope up with her changing body, mediocre academics, spiteful batchmates, and the crucial stage of having boyfriends.
The Karan Johar production is the first low budget film to roll out of the banner. The film, directed by Sonam Nair, opened to mixed reviews.
Here is a look at the reviews:
Saibal Chatterjee, NDTV
Rating: 2. 5 Stars
For all its attempts to look and feel different from the run-of-the-mill, Gippi is pretty obviously not the ultimate film about adolescence. But there is no denying that it is a warm-hearted film, if nothing else, with some nice touches that might strike an emotional chord. Unfortunately, the narrative tropes that first-time director Sonam Nair takes recourse to in portraying life on the school campus and the many challenges it poses for a girl who is happy in her own skin are ham-fisted and trite. Gippi is a feel-good drama and everything, even an overdose of clumsy preaching, is fair when the principal pursuit is happiness.
Madhureeta Mukherjee, Times Of India
Rating: 3 Stars
Sonam Nair's 'coming of puberty' film handles simple issues sensitively, though it doesn't delve too deep. The subtlety appeals, but lacks drama in the second half, with a mediocre climax. Teenagers will find a slice of their life in Gippi, and adults might protest to such 14-somethings extreme indulgences in fashion, hot-bods and green-tea diets. The mom-daughter moments exude emotions and shed the typical broken-home baggage. Overall, a simple story that stays pre-pubescent and doesn't quite grow into the high-school of stories.
Taran Adarsh, Bollywood Hungama
Rating: 3.5 Stars
Frankly, Gippi's could be yours, mine, anybody's story. Many of us go through a phase that's between teens and adulthood. Films like GIPPI talk to every parent, every child since kids, generally, at that age, don't know how to deal with situations and challenges that life throws at them. The feeling of insecurity, anxiety, edginess that one experiences during those years is delightfully captured through the various kids in the film. On the whole, GIPPI is a credible take on the 'coming-of-age' variety of movies. This one's straight from the heart. Sweet, simple, emotionally engaging, heart-warming cinema!
Shubhra Gupta, Indian Express
Rating: 2 Stars
You know where this film is going when you see this beetle-browed young girl being the butt of jokes in class and outside. You know that this is a coming-of-age, and it is a genre that you never tire of, because growing up can mean so many new, wondrous things. The problem is when the tale is neither new, nor wondrous. Gippi takes its cues from the madly popular Mean Girls and Gossip Girl: actually, not just cues, but entire templates. So school becomes a place for vicious fights between the overweight, unpopular Gippi and the very svelte, very mean Shamira (Modi), where a tussle between the two for the position of head girl plays out more like who will be prom queen.
It's nice for Gippi to be saying what it does. That fat and frumpy is not bad. That it is quite all right to be who you are, and not anyone else. That winning is not everything. But it would have been nicer if it had been said in a newer, fresher way.
Mohar Basu, Koimoi.com
Rating: 2.5 Stars
Gippi is an irresistibly penned fairy tale that has the only stilted flaw of working on clichés. For most part it is feel-good, except its dragging hackneyed bits that butcher the delightful impression that it manages. Clubbing adolescent antics along with the transformation of Gippi into a fashionista translates on screen some despicable stereotypes. The captivation penchant gives this film the confidence to follow into independent new-age genre of cinema. A steady, heart churning story with Riya Vij winning convincingly as the film's most entrancing element makes it an exceedingly watchable film for teenagers.
Gippi instilled in its stereotypical clichéd format, is still a pleasantly surprising venture on celluloid. Made with great sensitivity, it is a tender story of adolescent age. There are minor hiccups in the plot; but Riya Vij's immaculate work, in a story that is Bollywood's answer to Meg Cabot's Princess Diaries, is commendable. There isn't anything pristine in the film, but it evokes a sense of nostalgia that embeds with its story to leave a salient impact.