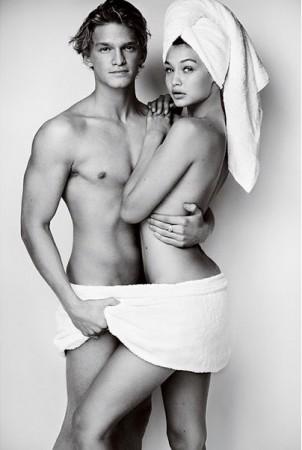 Gigi Hadid, who was recently tagged as one of People magazine's 'World's Most Beautiful Women', is celebrating her 20th birthday on 23 April. And three days ahead of that, Gigi shared a picture of McDonald's gift cards given to her by boyfriend Cody Simpson.
But before you get judgmental about it, you need to know it was Gigi who requested people to gift her coupons of food chains for her birthday, and with good reason.
She feels that when someone asks for alms, she is unable to help them with cash, because she doesn't carry money all the time. Instead of carrying cash around, she feels that carrying food coupons is more meaningful.
She had tweeted: "For my bday I asked for @McDonalds (or other food) gift cards to keep in wallet to give to those I pass on the streets of NYC... & elsewhere that are in need of a meal. I don't always carry cash & it's nice to know it'll be put to good use... Thanks @CodySimpson for the first batch!!!!"
This adorable show of love for each other and those less fortunate makes fans go crazy over Cody and Gigi. Although it is certain that Cody is not going to end Gigi's birthday gift with a bunch of McD gift cards, it is amazing that the "Surfboard" singer pays attention to her wishes and fulfils them.
(Cont) Thanks @CodySimpson for the first batch!!!! pic.twitter.com/kXGdzAnZkj

— Gigi Hadid (@GiGiHadid) April 19, 2015