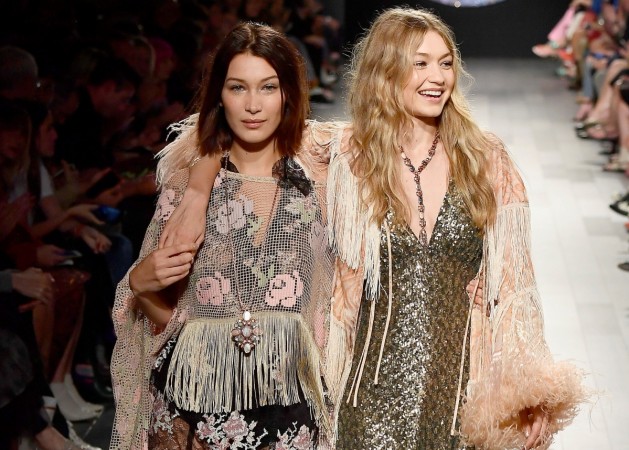 Gigi and Bella Hadid decided to get some pulses racing together. The supermodels took to Instagram to share a slew of new photos from their recent respective photo shoots and it got the temperatures rising.
Bella recently teased the behind-the-scenes photos from her recent photo shoot where she was seen trapped in a glass box and posing in various postures for the Pop Magazine's new issue. However, she recently shared sizzling photos from the shoot that drove fans crazy.
The Hadid sister stepped out nude to soak the sun while the lens caught her svelte body. The 21-year-old strategically places a red prop to cover her modesty while she grabs her boobs in the shot.
Fans couldn't stop gushing over the sensual photos. Comments like, "So beautiful," "You're breath-taking," and "God is a woman," flooded her comments section. A few followers were also relieved to see Bella out of the glass box.
Around the same time, Gigi shared a few pictures from the Vogue September issue. The 23-year-old is gracing the cover of the upcoming Vogue Brazil issue where she looks drop-dead-gorgeous. While the cover photo reminded a few of Millie Bobby Brown's recent W Magazine shoot, several others felt that she was perfectly channelling Amy Winehouse in the pictures.
However, there was a particular picture from the collection that got her followers talking. Gigi was seen wearing denim shorts topped with a brown sweatshirt. Her look was completed with a pair of black heels. Zayn Malik's girlfriend did not shy away from flaunting her toned legs.
Fans noticed something unusual about her legs in the picture. Many pointed out that her heels appeared to be photoshopped in a weird way. "What are her feet doing," a fan questioned. "I don't think one's left ankle is supposed to bend like that. It just looks weird to me," added another.
"I'm a little concerned about the feet. They look a little out of place. Gigi is a beautiful girl and she's an amazing model, I don't get why this is photoshopped," a comment read.