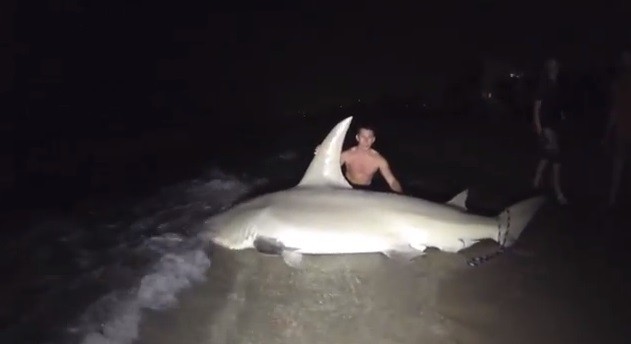 A group of students while fishing on the beaches of Broward County hooked a huge 14-foot hammerhead shark that was dragged on to the shore.
Students from Florida Atlantic University (FAU) battled with the shark for about 90 minutes to bring it to the shores. The massive hammerhead shark approximately weighed 700 pounds.
"We knew we had a giant fish on, we battled it for about an hour and thirty minutes, and when we saw the massive dorsal fin, we knew we hooked a giant shark," WPTV quoted Hluben, a student at FAU and one among the Landshark Fishing group.
Florida coastline has a lot of hammerheads and some are even bigger than the one caught, explained Mark Perry of the Florida Oceanographic Society.
Hammerheads near the coast of Florida grow up to around 19 feet. However, hammerheads are not as aggressive as bull or tiger sharks, according to Perry.
Once the giant creature was reeled in to the shore, soon members quickly started clicking pictures of their big catch before they released the shark back in to the water.
"The only thing I was thinking in my head was pictures, video, quick and get it back in the water," said Hluben.
Five young men pulled its tail as well as head, and within minutes the creature splashed its tail into the water.
Though the line circle was still hooked in the shark, he described the circle as non-stainless steel and would rust out over time.
Florida Sea Grant College Program partnered with the Florida Fish and Wildlife Conservation Commission and NOAA Fisheries agrees to the description and identifies the circle as safe during a catch-and-release fishing practice as non-steel material deteriorate over time.
Check Out for the Video Here