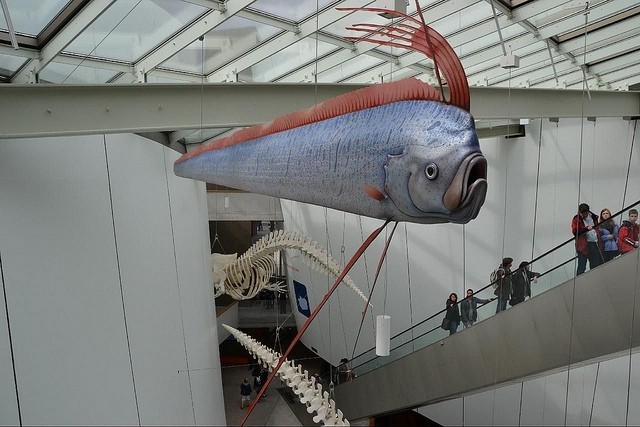 A group of snorkelers stumbled upon an 18-foot rare giant oarfish carcass off the Catalina Island in California.
During a leisure snorkeling trip off the Southern California coast, Jasmine Santana, a 26-year-old marine science instructor, spotted the silvery carcass, which turned out to be an oarfish also known as the sea serpent.
About 22 miles off the Port of Los Angeles in Toyon Bay, Santana, who is an instructor at the Catalina Island Marine Institute, spotted a huge eyeball, half the size of a dollar, buried under the sand. She then noticed its long tail and red fins and identified the massive creature as the sea serpent.
"I recognized it once I saw it and I was like, 'Oh my god, this is an oarfish, but it's huge!' And there's no way anyone's going to believe me if I just tell them, so I decided I should grab it and pull it out of the water," Santana told KPCC.
She was scared of approaching the oarfish as she was not sure if it was alive or dead. On confirming that it was a carcass, she then dragged the massive creature of about 75 feet out of the water with the help of 15 people.
"It just amazed me," Jeff Chace, director of the Catalina Island Marine Institute, told the Los Angeles Times. "This is a once-in-a-lifetime discovery."
In order to gather more information about this elusive creature and the cause of its death, the team gathered some tissue samples from the carcass and handed them to researchers at the University of California Santa Barbara as well other Universities.
At the moment, the team is perplexed as to how to deal with the carcass. It is extremely challenging to find a suitable place for the creature. Putting it in a freezer for preservation is highly improbable because of the size. The team plans to bury the carcass, allow it to decompose for some months and then mount the skeleton for display
This is not the first time that an oarfish was dragged ashore. Recently, a 13 foot horned sea serpent had surfaced on Luis Siret Beach in the Andalusian village of Villaricos, Spain.
An oarfish swimming in its natural habitat in the Gulf of Mexico was captured by a team of scientists from Louisiana State University.
The elusive oarfish also known as the sea serpent can grow up to 50 feet long and can dive up to 3,000 feet. It is predominantly found in the temperate and tropical oceans and is the longest bony fish alive. They drift ashore only when they are sick or dying and fishermen rarely have been able to catch the fish alive.