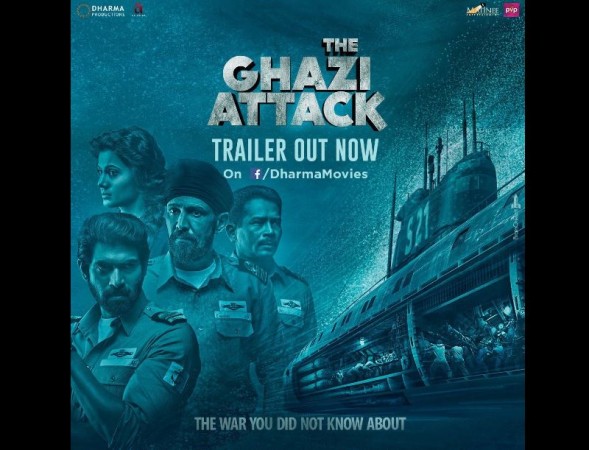 The Ghazi Attack, which is set to release on February 17, has been creating huge buzz as it is India's first war-at-sea film. The movie, starring Rana Daggubatti and Taapsee Pannu, is inspired by a true incident on the mysterious sinking of Pakistani submarine PNS Ghazi.
As the release of the movie is just a day away, the debate on the mysterious disappearance of Indian Submarine S-21 during Indo-Pak war has gained traction.
Here are a few facts that you should know about the naval battle that still remains a mystery:
1) Pakistan's submarine PNS Ghazi sank under mysterious circumstances in Indian waters on December 4, 1971.
2) It all started prior to the 1971 Indo-Pak war, the fight for liberation of East Pakistan (now Bangladesh). On November 14, 1971, the Pakistan Naval Command decided to send out its only submarine PNS Ghazi to Bangladesh. Its mission was to attack India's INS Vikrant, an aircraft carrier that had an active role to play in India's naval blockade of Bangladesh in order to disconnect it from Pakistan.
3) When Vice Admiral N. Krishnan, the commanding flag officer of the Eastern Naval Command got to know about the plan of Ghazi, he sent INS Vikrant off to a secret location in the Andaman and Nicobar Islands.
4) Krishnan then ordered India's World War II destroyer INS Rajput, which was sent to Vishakhapatnam for decommissioning, to be sent off the coast in the guise of INS Vikrant. Radio messages were sent out that made the Ghazi believe that INS Vikrant was near Vishakhapatnam.
5) The Pakistani submarine arrived in Vishakhapatnam on November 27 and deployed several underwater mines near the port.
6) On December 4, Inder Singh, the then captain of the INS Rajput, ordered the firing and soon after a large explosion was reportedly heard by locals near Vishakhapatnam harbour. The Ghazi had sunk along with all its crew members.
7) While India claims that it was the Indian Navy that destroyed Ghazi, Pakistan denies it. Their reports say that Ghazi mistakenly entered its own minefield and collided with one of the mines, which resulted in the explosion.