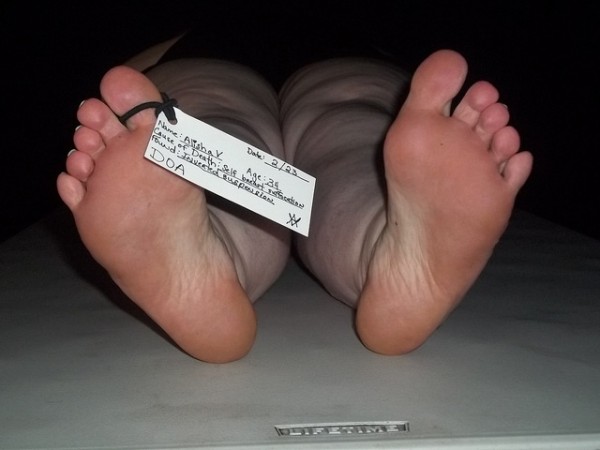 Morgue workers undoubtedly have one of the toughest jobs in the world. Facing death once in a while can have a devastating effect on people, whereas morgue workers' job is to face death every single day for a considerable amount of time.
By being surrounded by corpses most of the time, they begin to understand the concept of death and what happens to our bodies when we die. A mortuary worker, named Skarkur Lucas, says that while the dead bodies are sacred for many, it triggers sexual desires among others.
Lucas used to work at Korle Bu Teaching Hospital in Ghana. He confessed on television station Adom TV that in the past, he has had sex with dead bodies "many, many times". He further said that necrophilia -- sexual intercourse with or attraction towards corpses – forms part of the job training.
"That is the training. You have to do that, because once you have done that you will not be afraid of them again. Working with dead bodies is a talent that God gave me. I'm with the dead bodies every time, every day, and it is as if I'm with another person," Lucas said, Medical Daily reports.
The video of Lucas admitting to being attracted to corpses is below.
His claims on television drove the police to launch a probe into the issue. Meanwhile, Lucas is at large. He has been fired from the job, although he believes that he has not done anything wrong. When Lucas was asked if he faced any mental health problems, he said that he did not. "I am OK. I am OK, sir," he stressed.
However, Lucas is not the only one sexually attracted to corpses. Last August, an Ohio-based man named Kenneth Douglas – who was a morgue assistant – admitted that he has had sex with as many as 100 dead people over his 16-year career. He was found guilty of having sex with a murder victim – Karen Range – in 1982, after semen was found in her vagina. Other corpses he has had sex with belonged to 23-year-old Charlene Appling and 24-year-old April Hicks.
The motive of necrophilia-obsessed people is to be in possession of an unresisting and unrejecting sex partner. Lucas confessed that he had struggled a lot in finding a date because of his profession. I wanted to marry, but the girl says I am a mortuary man," he said. "I can satisfy myself [at the mortuary] because girls don't want to [date] me outside."
A study published in the journal 'The Bulletin of the American Academy of Psychiatry' stated that usually necrophiliacs opt for occupations that would put them in contact with the corpses.
There is another explanation for a person having developed necrophilia. The sexual attraction towards the dead could also be the necrophiliac's way of "transforming fear into desire to be able to master death".